When I was a little girl, I remember wishing I had light colored eyes. I don't know. Blue, green, hazel, and gray eyes just all seemed so much more interesting and beautiful. Maybe it's because I live in a country where we all have dark eyes. Maybe it's because I was addicted to anime and the characters would all have these big luminous colored eyes. Bottom line is, I've always thought colored eyes rock! These days, I can pretty much have any eye color I want, thanks to Air Optix Colors Contact Lens!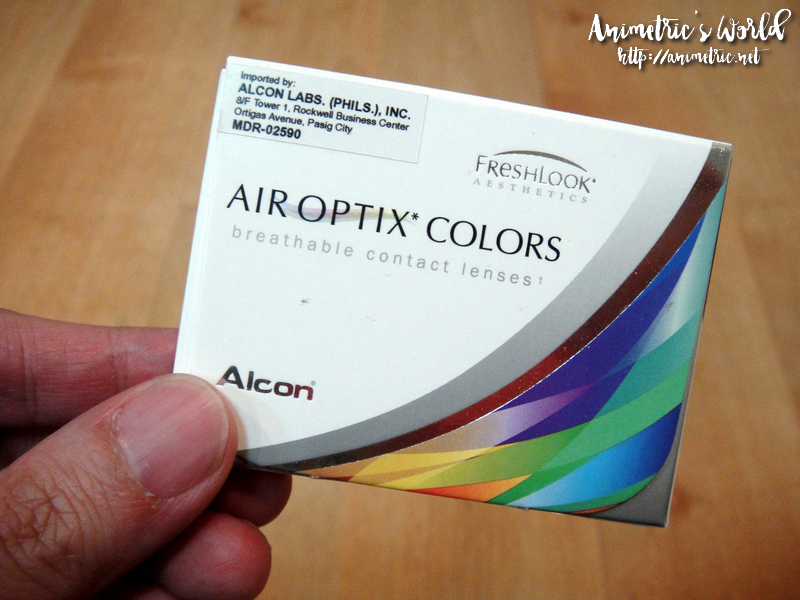 Changing your eye color is now as easy as changing your shirt! Who would've thought we'd come to this? So anyway, Freshlook (the brand I trust most when it comes to contact lenses) recently launched Air Optix Colors Contact Lenses here in the Philippines and these promise to be the most comfy colored contact lenses yet. I actually have a lot of friends who have been Air Optix users over the years, and they're excited that they can now have their lenses in different colors!
Air Optix Colors Contact Lenses come in monthly pairs, meaning they're good for 30 days after opening. Take note, 30 days… not 30 uses. So if you open them today, it doesn't matter if you use them just once or twice, you have to throw them out after the 30th day.
This is how I store my pair of Air Optix Colors. I got them in Sterling Gray. There are nine (9) colors available: Brilliant Blue, Blue, Gray, Sterling Gray, Gemstone Green, Green, Pure Hazel, Honey, and Brown.
This is how it looks up close. Air Optix Colors uses the 3-in-1 Color Technology:
Outer Ring defines the eyes (makes your pupils just a tiny bit bigger)
Primary Color (the colored part) transforms the eye color
Inner Ring (the middle part) brightens and adds depth to the eyes
Air Optix's ultra-smooth surface protects the lens from irritating deposits for consistent comfort. They're oxygen-transmissible too, meaning they're breathable.
Air Optix Colors in Sterling Gray
So this is how Air Optix Colors in Sterling Gray looks when worn. Wow, I wish my eyes were really this color!!! Air Optix Colors Contact Lenses in Sterling Gray are vibrant enough to be seen even in my rather dimly-lit bedroom.

Move to a venue with brighter lights and wow, you've got big luminous eyes that just seem to call out to people. Took these photos inside Blue Leaf during the Air Optix launch event and then by my window where the sunlight was coming through.
What I like about Air Optix Colors:
They're breathable for healthy-looking eyes.
They're very comfortable. I forgot I was wearing contact lenses shortly after I put them on.
They're nice and natural, plus they make your eyes look brighter and more alive.
There are 9 colors available ranging from subtle to vibrant.
I'm a klutz when it comes to contact lenses and these were surprisingly easy to remove.
Downside? They're a bit more pricey compared to the regular Freshlook lenses, as a non-graded pair costs P1,450 while graded ones cost P1,550. That comes out to around P50 per use, which is reasonable for quality lenses that help keep your eyes healthy.
Air Optix Colors are available at leading optical stores (like Ideal Vision) nationwide.
Like this post? Subscribe to this blog by clicking HERE.
Let's stay connected: