We had lunch at Mu Noodle Bar in San Juan City, a relatively new restaurant, when Frannywanny and her hubby dropped by Manila for a visit from Singapore where they're now based. The word Mu actually means mother in Chinese.
The place looks very small from the outside but it's actually quite spacious inside.
We were served some complimentary hot tea as we waited for our orders.
We started off with an order of Dong Bo Buns (P240). It's kind of like deconstructed cuapao. Fried mantou is served with saucy slices of pork belly, crushed sugared peanuts, cilantro, and mustard. You basically fill the mantou with everything. Pretty good! Each of us had a piece.
We also had Egg Fried Rice (P160), which is exactly what its name suggests. It's quite tasty though and not greasy for something that's fried.
Now we couldn't eat at Mu Noodle Bar and not order noodles, right? We had Char Siu Pork Noodles (P240). I was surprised at how big a serving was. It can be shared by at least two people. I liked how it was hearty and comforting… the soup had a clean yet flavorful taste that was a pleasure to sip.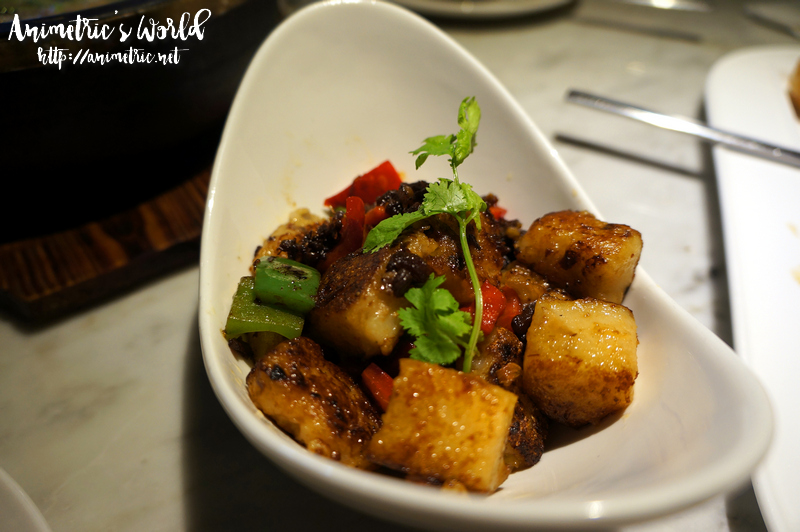 We also had XO Radish Cake (P200). I'm not overly fond of radish cake but this was cubed and then fried. It's crispy outside and soft inside. It's cooked with spicy XO sauce for a nice kick. I liked it!
Last but definitely not the least we had Mu Oyster Cake (P200). This has got to be the best and most unique oyster cake I've tried as it's like a fusion between Oyster Rockefeller (baked oyster with lots of cheese) and the traditional Chinese oyster pancake. Loved the cheesy chewy goodness!
We had a lovely meal at Mu Noodle Bar. Food is good and reasonably priced. The restaurant is spacious. It's sufficiently cooled by the air-conditioning despite the sweltering heat of high noon. Definitely worth more visits in the future.
Mu Noodle Bar
197 Wilson St., San Juan City
451-2681
Like this post? Subscribe to this blog by clicking HERE.
Let's stay connected: