Everyone in this house loves a nice and chewy cookie. Especially chocolate chip. So you can just imagine how thrilled we were when we got these Mrs Fields Cookies (the pre-packaged kind sold in the supermarket) at home one sunny afternoon.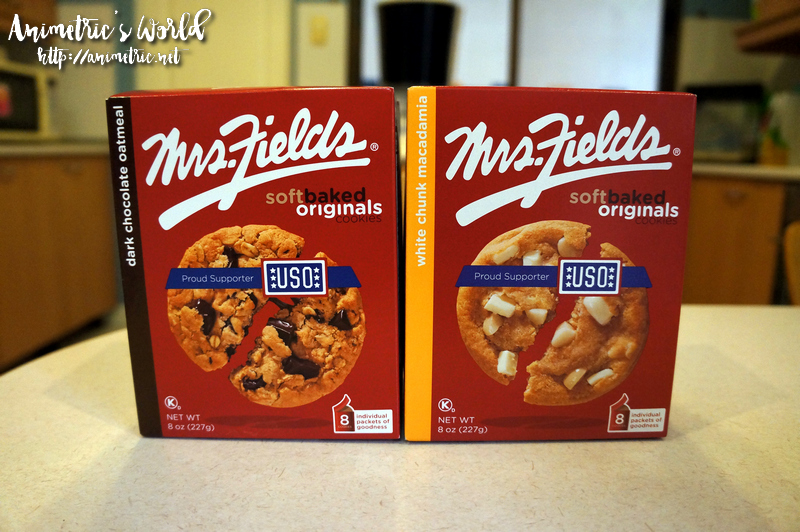 Mrs Fields Dark Chocolate Oatmeal and White Chunk Macadamia
These boxed Mrs Fields cookies come in several varieties. We got Dark Chocolate Oatmeal and White Chunk Macadamia.
Each box contains eight individually wrapped cookies — perfect for baon! What's more, you can eat just one and the rest would still remain fresh.
One cookie is around this size. It's pretty big, like the ones you can buy from Mrs Fields stores.
They're very chewy and chocolatey. This is the Dark Chocolate Oatmeal variant, my daughter loved it so much she would have one everyday until we ran out, lol. The White Chunk Macadamia is just as chewy and loaded with white chocolate chunks and macadamia nuts. It's sweeter than this one though.
These are Mrs. Fields Nibblers Cookies in Milk Chocolate Chip. Each box contains 15 pieces.
They're not individually wrapped. Two of these are about equal to one of the big ones.
These are so luxurious! Not only do they have milk chocolate chips, the entire back of the cookie is coated (fudge-dipped!) with rich milk chocolate. They're really really good. All of these cookies are perfect with a glass of cold milk. I really love them! Lovely with hot coffee too.
Mrs Fields Cookies are available at leading supermarkets for around P220 to P240 per box depending on the variant.
Like this post? Subscribe to this blog by clicking HERE.
Let's stay connected: