Mr. Bean, a soya milk chain from Singapore, celebrated its 1st anniversary in the Philippines today. I was invited to visit their Eastwood Mall store. I don't go to Eastwood that much but I've seen their store a few times in the past — I just wasn't sure what they were offering.

The Eastwood Mall store is small and has about 4-5 tables. I was told that in Singapore, Mr. Bean isn't a sit-down cafe type of establishment… they're just stalls which serve drinks and snacks located at subway stations and other public thoroughfares. Mr. Bean makes soya milk fresh from soya beans everyday (sometimes even 2-3x a day) so you can be sure of the high quality of their products.
I brought my hubby along because I knew I could not eat everything by myself, lol! I need someone to split the calories with. Anyhow, first item we tried was Mr. Bean's Classic Soya Milk (P55 Regular / P65 Large). Like milk tea, you can actually specify how much sugar they put in it. The one they served as was at 100% but surprisingly, it wasn't overly sweet especially if you compare it to the soya milk you can buy at the supermarket. It has a fresh and light taho-like taste which we really enjoyed.
Then we had Mr. Bean's newest offering which they came up with for the summer — Chilled Taho (P45). OMG. Best Chilled Taho I've ever tasted in my life. If there was such a thing as soy milk custard, this would be it. It's smooth, silky, creamy and practically everything I want my chilled taho to be. You don't even need to add syrup because they've already incorporated natural coco sugar into it. This puts all the other chilled taho's I've eaten in the past to shame.
Then we tried a couple of other drinks — specifically Watermelon, from Mr. Bean's Fresh Fruity Soya line (P75 Regular / P85 Large) and Lychee, from Mr. Bean's Icy Soya line (P90 Regular / P100 Large). The combination of fresh watermelon and soya milk is amazing. It's fruity, milky, and refreshing at the same time. Lychee had lychee popping boba inside. I actually don't like lychee but this is very cold and pleasant to have during a hot day.
Mr. Bean serves filled pancakes too. We tried Kaya (P60). Exceptionally chewy pancake is filled with a Singapore-style pandan and coconut jam. It's pretty good. They use soya flour to make it too.
However, I liked Cheese (P60) better. The same deliciously chewy pancake is filled with cream cheese. Yum!
Then we had soft-serve Soya Ice Cream (P80). I normally dislike ice cream but this is soooo good. Again, not overly sweet, light, and pleasant. I'm pretty sure my kids would love this.
Finally we tried something warm, the Mr. Bean Special (P75).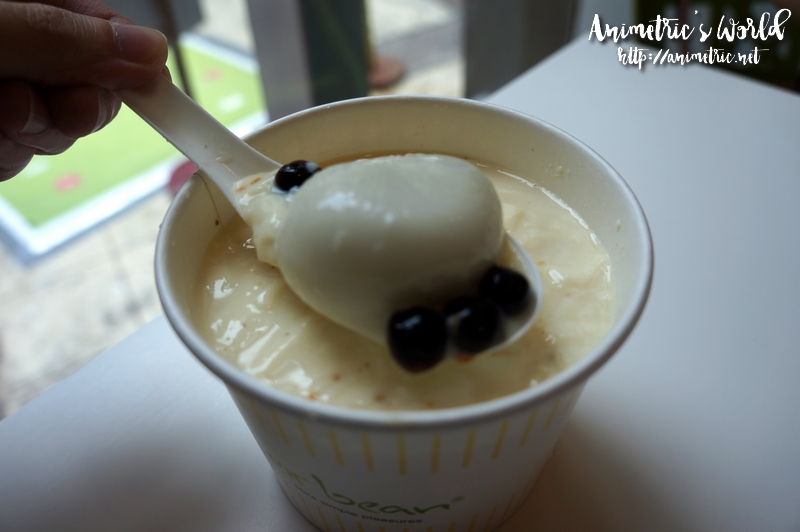 It's a mix of warm taho, soya milk, chewy black pearls, and two big sticky rice balls (one filled with peanut and one filled with black sesame). It's really good as a snack since it's rather filling.
I was really impressed with Mr. Bean's offerings. I just wish they'd open a branch closer to me — maybe Greenhills or Robinsons Magnolia because I find their prices very reasonable for all the fresh and healthy stuff they offer. Well, they actually had a price rollback for the anniversary so they're lower than they were in the previous months. I will definitely drop by next time I'm in Eastwood. I want to let my kids try. All of us in the family love soya milk.
Mr. Bean's branches are located at Alabang Town Center, Eastwood Mall, Lucky Chinatown Mall, JP Morgan Net Plaza Bldg., and Venice Piazza.
For more information and updates, check out Mr. Bean Philippines on Facebook.
Like this post? Subscribe to this blog by clicking HERE.
Let's stay connected: