If there's one thing my kids never go to school without its protection against mosquitoes. Dengue fever is too scary an ailment to risk catching, and our school has identified July to January as Dengue months. I'm always trying out new stuff though, and the latest insect-repelling thingamajig I've tried was the Mosrepel Anti Mosquito Bracelet (P125).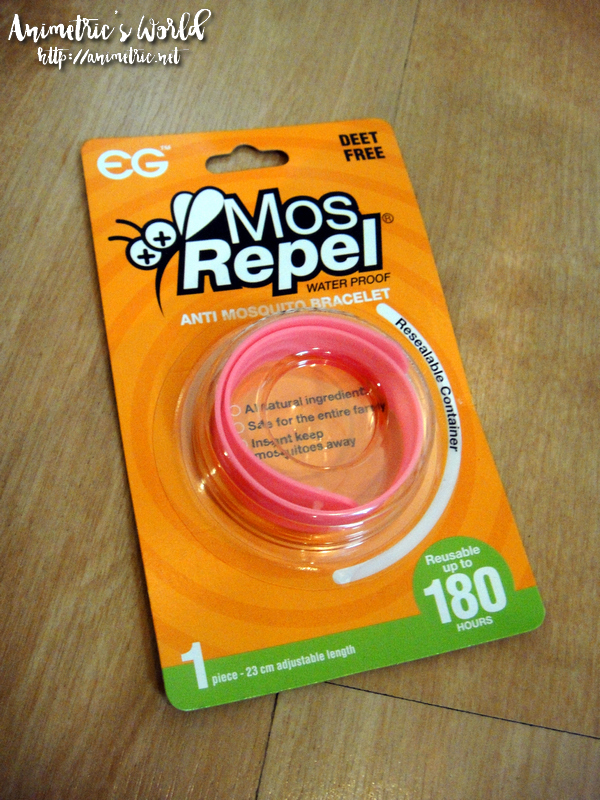 Like the name suggests, it's a bracelet you wear to keep mosquitoes away.
It comes with a resealable plastic container. The bracelet bears the strong scent of citronella so it's suggested that you keep it inside the container sealed shut when not in use. One bracelet can give up to 180 hours of protection against mosquitoes. My daughter uses it for about 10 hours a day during school days and so that's 18 days of protection for her.
You fasten the Mosrepel Anti Mosquito Bracelet with a button. It comes in several colors to suit all ages and genders.
It's adjustable so one size fits all.
What I like about Mosrepel Anti Mosquito Bracelet:
It works. My daughter has been coming home from school with no bites.
It's not messy because I don't need to apply anything to my daughter's skin.
It's waterproof so it's game time rain or shine.
It can fit any wrist size since it's adjustable.
It's economical at P6.95 a day in my case since one bracelet costs P125 and my daughter can use it for 18 days when worn 10 hours a day. It's a lot cheaper compared to Para Kito insect-repelling wristbands.
It doesn't stain fabrics. My yaya sometimes complains that insect repelling lotions and oils causes the white sleeves of my kids' uniforms to turn yellowish.
Downside? None really. Of course if you are going to wear formal clothes this won't go with your look, lol.
Mosrepel Anti Mosquito Bracelets are available at National Bookstore, Mercury Drugstore, and South Star Drug Store branches nationwide for P125 per piece, P240 for a pack of two.
Do you use anti-mosquito / insect-repelling stuff too?
Like this post? Subscribe to this blog by clicking HERE.
Let's stay connected: