I got this unique product called Mores White Booster (P1,695) for review some time ago. Mores is a brand which hails all the way from Thailand.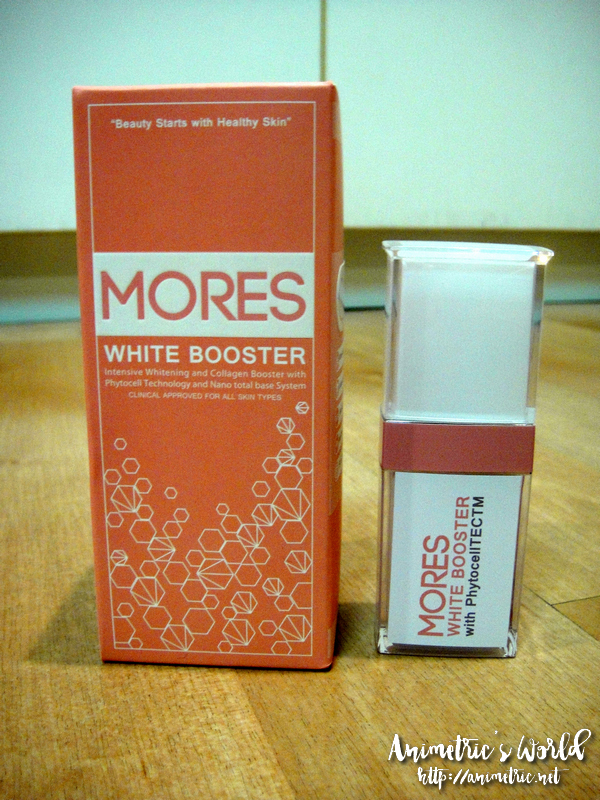 Mores White Booster is an intensive whitening and collagen-boosting serum which is suitable for use as a daily moisturizer or as a spot treatment for dark spots. This product makes use of botanical ingredients.
I like the pink and white angular bottle.
The product is creamy and the scent is quite mild.
It disappears when you massage it into the skin leaving maybe just a slight glow.
I got a freaky pimple more than a month ago and it left an ugly dark spot on my left cheek. I decided to use Mores White Booster as a spot treatment for it. That way, it's easier to gauge if it works.
I apply Mores White Booster 2x a day, once in the morning and once at night. This is the result after 11 days of doing so. The dark spot is smaller and lighter. I'm still using the product and I'm hoping it will be gone completely in a week or two.
What I like about Mores White Booster:
It's creamy yet light in texture so it doesn't leave a greasy feel.
The scent doesn't bother me.
It was pretty effective in lightening my pimple mark.
Downside? It's not easy to find as it's not available in stores, to order you must go to https://www.facebook.com/BrightSkinPh. Also, it's a bit pricey at P1,695 for 30ml — but if it works hey, I'm willing to spend! I noticed that the skin around my pimple mark whitened too, so if you're using it as a spot treatment make sure you apply ONLY ON the problematic spot not around (I applied around and now I have a white patch I can see in photos). I'll probably need to apply to my entire face to even out the whiteness. XD
If you want to whiten your skin, this product definitely does the job. I recommend that you do a patch test before using just to make sure you're not allergic to it. To order, log on to https://www.facebook.com/BrightSkinPh.
Like this post? Subscribe to this blog by clicking HERE.
Let's stay connected: