We visited Morelli's Gelato Caffe in Shangrila Plaza Mall for the first time some weeks back. We went straight to the mall after school so the kids could enjoy an ice cream break. I often pass by this place when I'm in Shangrila but it was my first time to try.
Morelli's Gelato Caffe is located in the East Wing. It's right across California Pizza Kitchen.
There were around 20 different flavors of gelato on display. One scoop costs P130.
You can get a free taste if you can't make up your mind which one to order. I had a taste of the Horlicks gelato. It was exceptionally smooth and creamy. It did actually taste like Horlicks.
We eventually decided to order gelato creations off the menu. My daughter decided to go for Floating Heaven (P275). Two scoops of gelato (your choice) are placed in the middle of rich hot chocolate fondue. She opted for 2 scoops of Stratiacella, which is the gelato version of Cookies and Cream ice cream I think. I had a taste of the chocolate and it was lovely. Definitely not the sore throat-inducing kind.
My son ordered the fruity Knickerbocker Glory (P395). Strawberry, chocolate, and vanilla gelato are served with fresh seasonal fruits.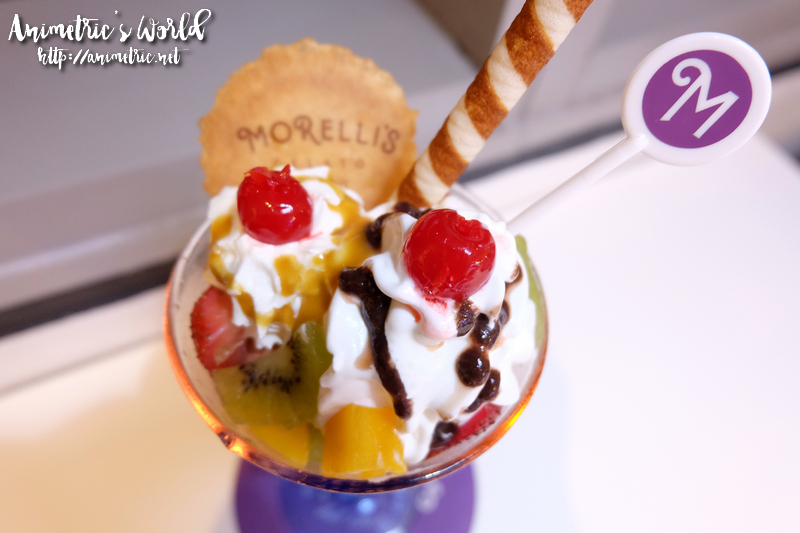 This time they put in strawberry, mango, and kiwi pieces. Everything is topped with whipped cream and cherries.
Hubby tried the Caramel "Dulce De Leche" Extra Thick Shake (P225). Morelli's Extra Thick Shakes are made with fresh gelato. Surprisingly, this one wasn't overly sweet and hubby actually finished the entire drink.
I had the Banana Royale (P425). Banana, Caramel "Dulce De Leche", and Vanilla gelato are served with sliced banana and caramel dulce de leche sauce. The banana gelato tastes amazingly like fresh banana.
Here's a closer look at Banana Royale. It's good for sharing.
I also tried the Crema (P210) which is cappuccino with vanilla gelato. It comes with a tiny cookie on the side. It's coffee and dessert rolled into one… really nice and creamy.
We quite enjoyed our Morelli's experience, but I would probably order per scoop if I'm alone. The gelato creations are good for sharing. I don't think I'd be able to finish an order by myself. I think I'll try the Manila Special next time as it's their most unique and popular flavor.
Morelli's Gelato Caffe
2/F East Wing Bldg Shangrila Plaza Mall
EDSA Cor. Shaw Blvd, Mandaluyong City
654-4062
Like this post? Subscribe to this blog by clicking HERE.
Let's stay connected: