When you say glutathione, one thing comes to mind — skin whitening. It's no secret that most Filipinas want lighter skin. That said, we have a seemingly endless array of products that cater to this need. Now one such product I've come across is Snow Caps L-Glutathione Dietary Supplement (₱1,600+ for 30 capsules).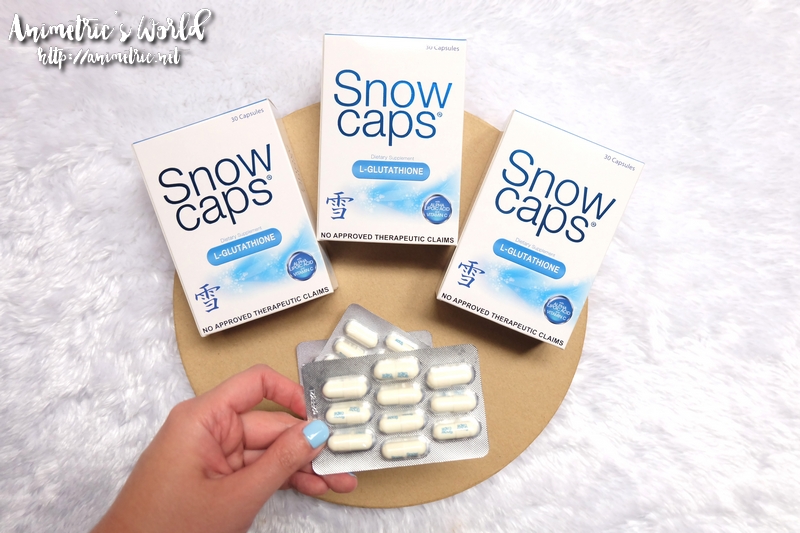 First of all, what is Glutathione? According to WebMD, Glutathione is a substance made from 3 amino acids: cysteine, glutamate, and glycine. Glutathione acts as an antioxidant and helps the body combat free radicals. Free radicals are molecules that can damage your cells. Glutathione also helps the body detoxify.
Now our body's supply of glutathione decreases as we age. This is in fact my primary consideration for taking glutathione supplements. For me, it's not so much the skin whitening properties, but the health and anti-aging benefits. More glutathione means more antioxidants, and more antioxidants mean healthier cells… and healthier cells lead to an enhanced immune system.
But what is L-Glutathione? It's the active ingredient is Snow Caps after all. L-Glutathione is "Reduced Glutathione". This simply means the most bioavailable glutathione, most readily absorbed by the body to effectively boost glutathione levels. Each Snow Caps capsule contains 500mg of L-Glutathione, 100mg of Vitamin C, and 100mg of Alpha Lipolic Acid. Snow Caps whitens skin by converting dark melanin pigments into light pigments and reducing melanin production. By taking one capsule daily, you will start to see results in less than 6 weeks.
Since glutathione helps detoxify the body, Snow Caps can be used as a remedy for hangover. Just take a capsule when you wake up in the morning and you'll feel better in a jiffy. I don't really drink but I have friends who swear by this! Plus, being a natural body antioxidant, studies suggest that glutathione can help with infertility.
The recommended Snow Caps dosage is one (1) capsule a day in the morning with or without meals. For those who want to see results faster, up to two (2) capsules a day can be taken.
Snow Caps is available for ₱1,600+ per box of 30 capsules at leading drugstores nationwide. You can also purchase from SnowCaps Flagship Store on Lazada.
Like this post? Subscribe to this blog by clicking HERE.
Let's stay connected: