We were invited to a night out at Torch Restaurant sometime last month. It actually wasn't my first time at Torch, more like my 5th or 6th already because my high school batchmates held our post-reunion party there and my hubby likes the place so we go there with friends from time to time.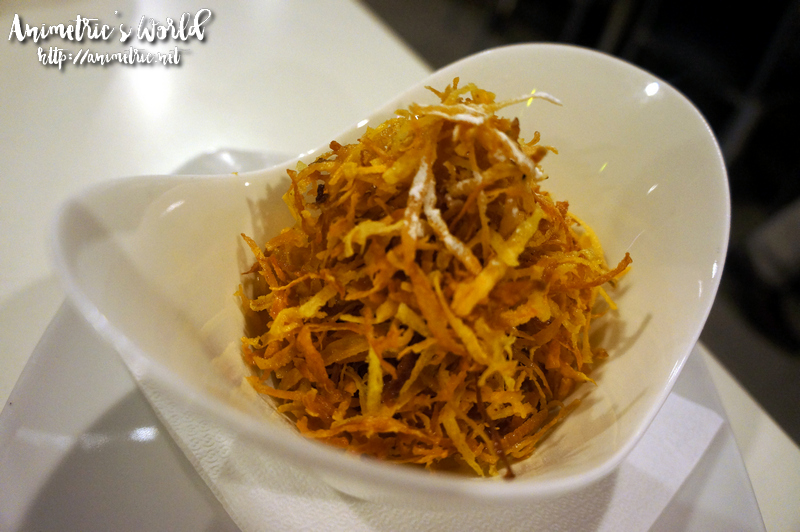 We were served Potato String Fries as soon as we sat down. Julienned potatoes that are fried to a crisp, they are even thinner and crispier than Pik-Nik (the popular shoestring potato snack).
I'm allergic to alcohol but I was really intrigued by Torch's signature drink Mango Daiquiri with Upside Down Beer so I ordered one. It was surprisingly good! What happens is, you pour out more beer as you go along… haha. My face was all hot and red with just a few sips and so I passed it on to my hubby… hahaha! XD
Hubby ordered Snowflake Coco-Lychee Martini Slush which was the other recommended drink that night. I dislike lychee but this was great too! Torch concocts some of the most delicious cocktails I swear.
To start us off on dinner, we had Mushroom Bisque (P234.95). I like how it's got texture while at the same time retaining the perfect level of creaminess. You can fill bits of mushroom in your mouth as you sip. Yummy!
Then we had Truffle Fries (P245.95). The aroma of truffle alone is enough to send me to high heaven, haha! It's served with some tasty peppermill dressing on the side too.
Steak Panizza (P329.95) was up next. Oven-baked thin crust panizza is topped with strips of US Angus Beef, mozzarella, and cream cheese.
The panizza is served with veggies you can roll up with it. Yummy!
We also had Gambas Pizza (P329.95). It's very spicy. I thought the green thing was celery and chewed on it but it turned out to be chili pepper waaaah! I really should wear my eyeglasses next time. XD
The food never stopped coming! I was already getting full when Volcano Roll (P369.95) was laid down on our table. Sushi filled with tamago, tempura shrimp, and cucumber, it was topped with melted cheese too. I felt myself gaining weight just looking at it!
We got to try Torch's secret sushi too. It's not found in the menu but you can order it by saying you want the secret sushi. It's filled with salmon and cream cheese and served with crispy breading on the nori (seaweed) wrapper. Loved the bonito flakes that went with it. 😀
This is the much talked-about Steak Fondue (P879.95). Cubes of raw Australian Meltique beef cooked on the tabletop… your way. It comes with five kinds of sauces too.
You are provided with a fondue set with boiling oil so you can cook the beef to your desired doneness. It's pretty amazing. The beef is melt-in-your-mouth soft and tender. It's actually enjoyable even without sauce but since there was truffle sauce of course I had to have it, haha! I love the aroma of truffles.
Salpicao Medallion (P479.95) was brought out next. Angus beef is wrapped in bacon and served with garlic parsley rice and sauteed french beans. Although it looks thick and chunky, it was actually pretty tender and easy to slice. I don't think I can finish one order by myself so I recommend this for sharing.
For dessert, we had sampler sizes of Torch's Panna Cotta with Fresh Fruits (P99.95). I love the milky taste of panna cotta and Torch's is no exception.
We were also served Frozen Brazo de Mercedes (P234.95). The normal serving is much bigger than this. Since I was really full already I just had less than half their actual serving size. It's really good though and I prefer it to the traditional Brazo. Light and fluffy yet soft meringue and custard cream combine for a sweet end to your meal.
I had a really filling and enjoyable dinner at Torch Restaurant. By now I think I've tried quite a big portion of their menu and I must say they serve good food. My hubby normally prefers Chinese food but whenever we are meeting people and we need a venue he always suggests Torch. There's a wide variety of dishes to choose from and prices are quite reasonable considering what you're getting. By 10pm the lights dim and Torch Restaurant transforms into a bar… so it's also good for late nights out and chilling with friends as well.
Torch Restaurant
Home Studio Building
63 Connecticut St., Greenhills, San Juan City
477-3771
Like this post? Subscribe to this blog by clicking HERE.
Let's stay connected: