One Saturday afternoon my daughter and I went to Greenbelt for Monde's special screening of Minions. Having watched Despicable Me and Despicable Me 2, the Minions needed no introduction.
Guess what? Monde made the screening so much more special with free treats for everyone! Yes, you could just walk over to the Monde booth and taste all the yummy Monde goodies.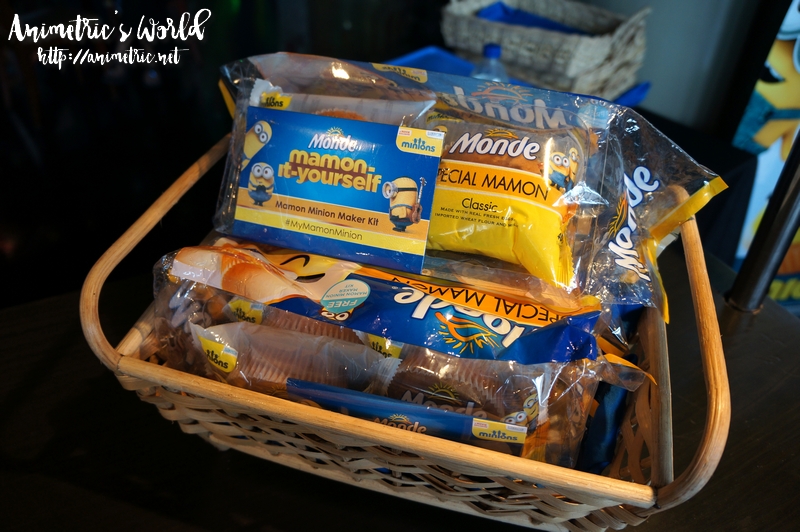 To celebrate the Minions movie, Monde recently came out with the Monde Mamon-It-Yourself Minion Maker Kit. You can get it for free from specially marked packs of Monde Special Mamon. My daughter thought the movie was short but it actually lasted an hour and 45 minutes. We didn't feel the time pass because we were enjoying the movie so much! This is after all the story of how the Minions met their master, the supervillain Gru.
We got to take home Monde goodies including our very own Monde Mamon-It-Yourself Minion Maker Kit after the screening.
Still on a Minions high, we immediately took to making our own Monde Mamon Minion as soon as we got home.
The kit comes with 2 sets of fondant eyes, some malleable clay-like black fondant, and bright yellow frosting. There are complete instructions in the pack too, and one pack is enough to make 2 Minions.
Before anything else, it's recommended that you mix the frosting by kneading the sachet with your fingers.
Even the individual packaging has the Minions on it! 😀
Step 1: Squeeze out the frosting. You don't need any other tool for this, not even a spatula.
The frosting is kind of runny in texture so you can hold the mamon upright like this so the frosting goes to the edges until it covers the entire mamon surface.
Step 2: Stick the eyes onto the frosting-covered mamon surface. Use the frosting as glue to attach the pupils. Okay I used too much frosting lol — see it's dripping down the sides! Don't make the same mistake. Thank goodness it was easy to catch the excess frosting with a spoon.
Step 3: Take the soft black fondant and shape it into straps and a mouth with your fingers. Attach to the mamon surface.
Voila, you now have your very own #MyMamonMinion!
Extra Tip: If you're making two Minions, cut the frosting sachet in half so it's perfectly divided into two servings. I know that's what I'm going to do next time.
Making #MyMamonMinion is definitely a fun DIY activity for kids and kids-at-heart! Monde Mamon-It-Yourself Minion packs are available at supermarkets nationwide. For more information and updates, like Monde on Facebook or log on to http://www.monde.com.ph/mymamonminion.
Like this post? Subscribe to this blog by clicking HERE.
Let's stay connected: