When I was grabbing a sample pack of Modess Cottony Soft All Night Pads from Sampleroom.ph, I read that 70% of all fluids come out in the first 2 days of your period. Well it does make sense because personally, my heaviest day is always the 2nd day.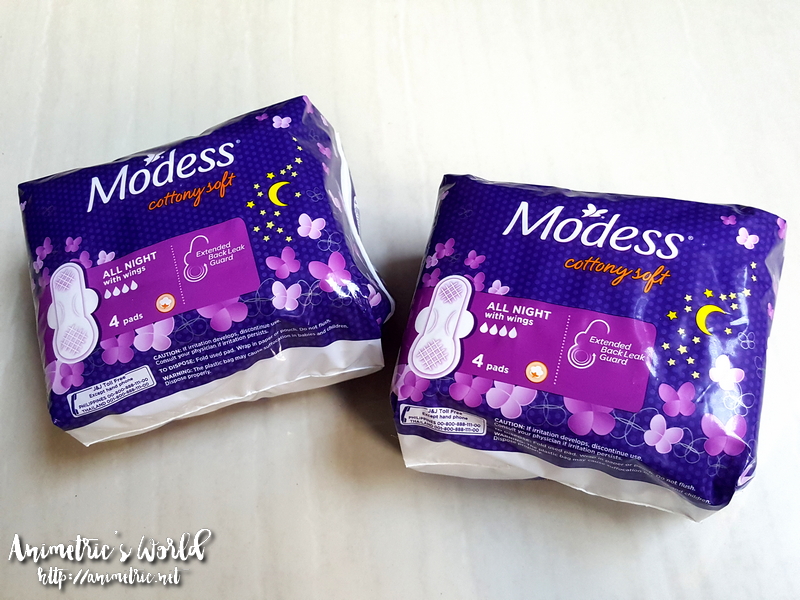 So anyway I got to try the Modess Cottony Soft All Night Pads recently.  One problem I have whenever I have my period is the fact that I can't really monitor how full the pad I'm using is when I sleep… or if it's staying in place.  If it doesn't stay put it I might just wake up to an unsightly mess and I don't want that. I use longer night-version pads when I sleep but there are still times I experience leaks.
Modess promises a good night's sleep free from period-related worries with this new variant. They're sold in packs of four for P42.25.
For starters, the pad is 30.5 cm long. It has wings as well as a back leak guard.
By back leak guard I mean the part of the pad that goes behind you is wide so it covers a big area. That means it can "catch" everything.
So I tried these pads the last time I got my period and I'm happy to say that it delivered what it promised. I slept like a baby without having to worry about leaks or backflows.
What I like about Modess Cottony Soft All Night Pads:
I can go to sleep worry-free because these pads have proven to be effective in preventing leaks.
The cottony soft cover feels dry and comfortable all throughout.
The Stayfresh active odor neutralizers ensure that I feel clean and fresh the entire time.
Downside? It's a bit on the thick side but I don't really mind since I use them at night when I'm sleeping.
Modess Cottony Soft All Night Pads are available for P42.25 per pack at leading supermarkets and drugstores nationwide. You can still grab a FREE sample pack at Sampleroom.ph! Make sure to grab other samples to go with it to make the most of the shipping fee.
Like this post? Subscribe to this blog by clicking HERE.
Let's stay connected: