Hi all! I hope everyone's staying safe and dry. I'm pretty much cooped up at home pigging out and sleeping since I'm not pressured to wake up before 6am during these stormy days.
A week or so ago, I received some goodies from Regent Foods Corp. I've been eating Regent snacks ever since I was single so I was pretty familiar with their product line-up. My boss from my first job (when I was fresh out of college) used to bring lots of Regent snack cakes to the office too.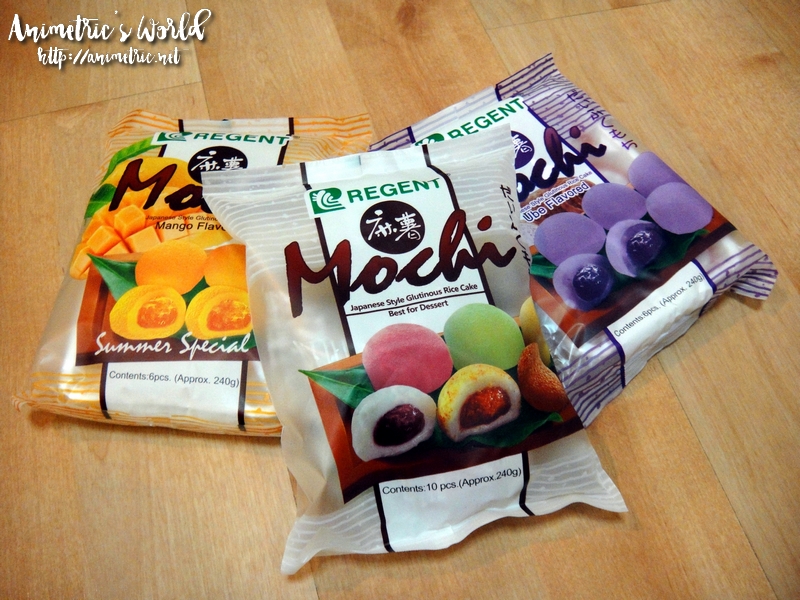 I got a mix of both classic and newly released Regent products, but these stood out from the bunch — Regent Mochi. I've never seen this product before. Mochi is a chewy sweet treat of Japanese origin made of glutinous rice then stuffed with paste made from either red bean, peanut, sesame, etc. Regent has 3 variants: Ube, Mango, and Assorted.
First we tried Ube. I love the nice purple-themed packaging!
Each pack contains six plump and chewy ube mochi.
They come in a neat plastic tray.
One mochi is this big.
The filling is a yam-based bean paste. I love how soft and chewy the outer covering is. 😀
Next day we tried Mango Mochi.
It smelled just like dried mangoes.
It's super soft and chewy, filled with what seemed like mango-flavored bean paste. I liked this one better than the Ube.
Lastly, we tried the Assorted Mochi. Unlike the first two, these are individually wrapped. There are ten pieces per pack.
Each mochi in this pack is smaller in size compared to Ube and Mango. The filling is different too, it's peanut-based. The outer covering's color is indicative of its flavor. The one I tasted had a slight orange flavor. The reddish pink one had a hint of strawberry while the white one tasted like lychee. It's not as chewy and sticky as Ube and Mango but I really liked the peanut paste filling.
All of the Mochi variants we tried were good in general but my vote will have to go to Mango. 🙂
Depending on which supermarket you buy them from, the Assorted Mochi costs around P47 per pack while Ube and Mango cost around P57 per pack. You can also find all the flavors at the Regent Foods Flagship Store on Lazada.
Like this post? Subscribe to this blog by clicking HERE.
Let's stay connected: