Continuing our Seda Nuvali staycation chronicle, I took a look around the premises to see what else was there for us to enjoy.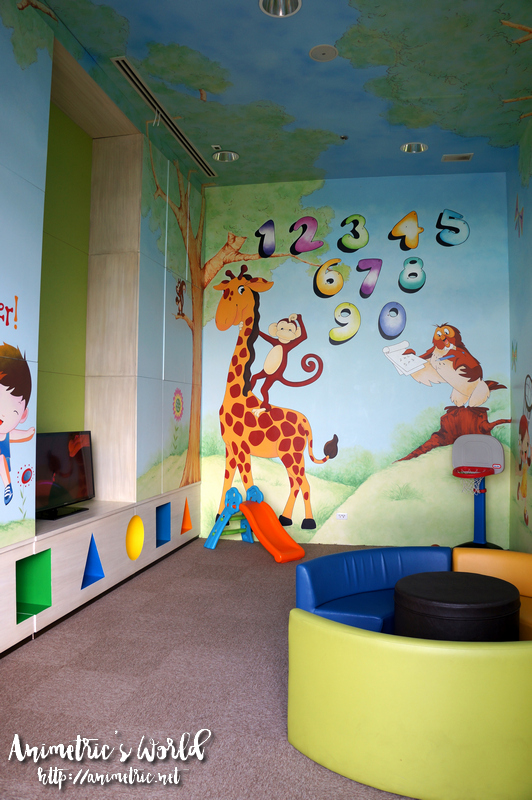 It's fully air-conditioned, carpeted, and furnished with an LCD TV, soft furniture, a mini slide, and a mini basketball hoop.
For older kids and adults, there's a game room next door with computers and video game consoles.
Wow, they have a Sony PS4 there as well as a Nintendo Wii and an XBox 360. Each console has several games available for play.
There's also a gym that's equipped with state-of-the-art Life Fitness exercise machines. I was also taken to the spa area but I was unable to take photos of the rooms because they were occupied.
By 5:30pm I went down the swimming pool area with hubby and the kids to swim. Luckily it wasn't too dark yet. It was actually perfect because there wasn't any sun anymore.
We pretty much had the swimming pool to ourselves.
The hotel lights up come twilight so it wasn't dark at all. We stayed in the water till a little past 6pm.
After swimming we went back to the room to shower and get changed. Dinner was at Misto Restaurant, a comfy casual place where they had a Christmas Buffet Dinner ongoing for P888++ per person from December 15-23, 2014. They normally don't have dinner buffet, you usually had to order everything ala carte.
We were pretty famished after swimming.
This was hands down my favorite dish, Pomelo Salad with Kefir Lime Vinaigrette. Really fresh, light, and citrusy, it's just the way I like my salad.
The kids loaded up on Pasta Carbonara.
This is fish served in 2 ways: Fish Fillet Picatta with Lemon Cream Sauce and Fish Nuggets.
Roasted Beef with Red Wine Sauce and Gorgonzola Sauce
At the center of everything was the tender Homemade Ham which I had some of. I drizzled pineapple glaze all over it. I had grilled pineapple slices with it too.
For dessert there was Leche Flan.
Fresh Seasonal Fruits
There were assorted cakes too, I liked this cupcake best.
We had a nice satisfying dinner at Misto Restaurant before finally going up to our room. Thank you Seda Nuvali for letting us try the Christmas Buffet Dinner!
Misto Restaurant @ Seda Nuvali
Lakeside Evozone, Nuvali,
Sta. Rosa City, Laguna
http://web.sedanuvali.com/
Like this post? Subscribe to this blog by clicking HERE.
Let's stay connected: