As I've shown in an earlier post, I was recently given a set of Minola products to try. We've been using canola oil prior to this but I'm always open to other alternatives especially if it means it will be beneficial for my family.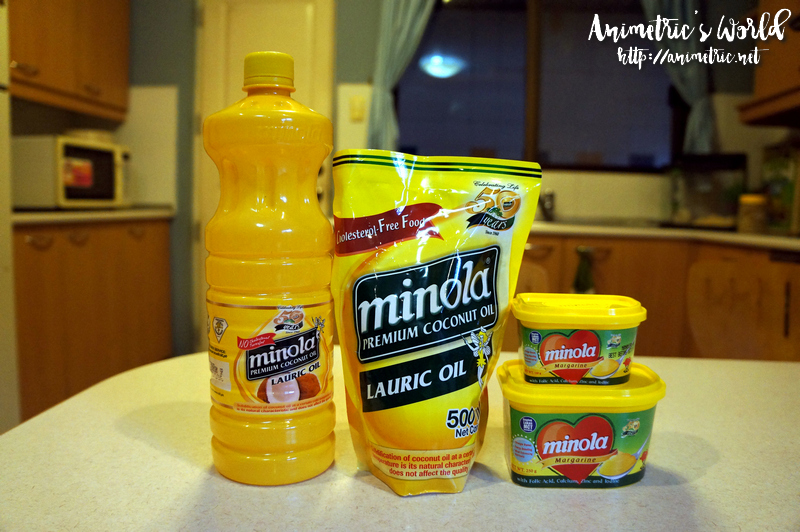 We got cooking oil and margarine. Minola Margarine is actually something new to me as it's the first time I've seen the product. Like other cooking oils, Minola Premium Coconut Oil is available in different sizes. A liter costs about ₱167. The last few times we used this we poured it directly to black teflon pans we use for cooking so I didn't really get a close look at the oil itself. I put some in a small white ramekin and the oil is clear and slightly golden. It's lighter in color compared to the more yellow canola oil. The consistency is light and there is no scent. So far it has been good for frying — we've cooked everything from lumpiang shanghai, fried chicken, to even simple things like pancakes.
What I like about Minola Premium Coconut Oil:
It's coconut oil, so it's rich in lauric acid. Lauric acid is the same substance found in human milk and it has anti-microbial properties so it can help boost immunity.
Its light consistency doesn't make the food we cook overly greasy.
It's completely scent-free.
Coconut oil is generally considered non-GMO (Genetically Modified Organism) unlike other oils like canola or soy so it's more natural in terms of origin.
Downside? Adding any kind of oil when cooking food adds fat and calories but then it's unrealistic for us to go without any form of frying at home. The key is to choose the oil you will use wisely and then use in moderation.
Minola products are available at all leading supermarkets nationwide. There is also a Minola Flagship Store on Lazada.
Like this post? Subscribe to this blog by clicking HERE.
Let's stay connected: