I'll be doing a few travel posts for the remainder of the month since I know that a lot of you will be vacationing out of town for the holidays. Hopefully, I'll be able to help you out somehow. One of the places we visited during our trip to Baguio City last November was Mines View Park.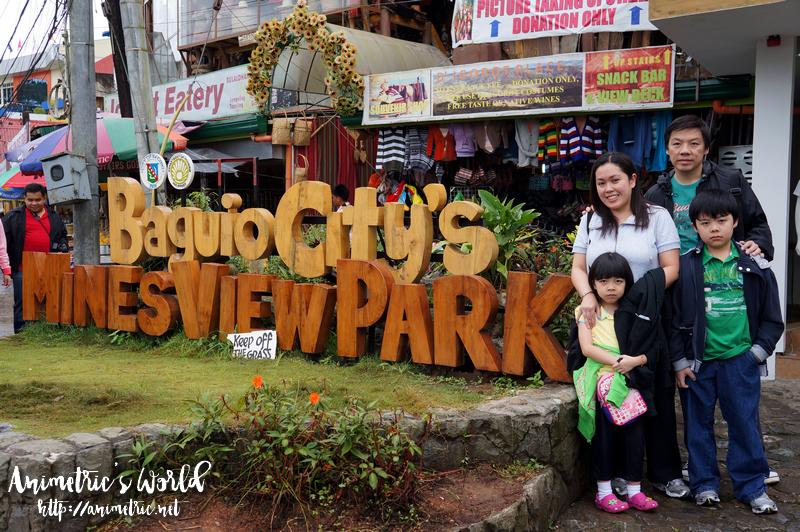 The last time I was in Baguio was when I was in grade school, so I don't really remember much. Anyhow, Mines View Park turned out to be more of a bazaar rather than a park.
There were a lot of food stalls offering everything from freshly boiled sweet corn to gift items like peanut brittle and "kulangot" candy.
I tried the skewered dried grilled cuttlefish strips. I was scared to eat it at first but it turned out to be a very tasty snack — salty, spicy, and a little sweet at the same time. It's best eaten while it's hot fresh off the charcoal grill. There are also a lot of stalls selling gloves, sweaters, t-shirts, wooden toys, magnets, etc. at Mines View Park. It's like a large tiangge (bazaar). I'm not really a bazaar person so I didn't bother checking out or taking photos of the non-food wares, although there are a lot.
You can ride a horse at Mines View Park too. You can even pay, or rather, "donate" to have photos taken with any of the several large St. Bernards in the area. I didn't want to pay so I don't have a photo of a single St. Bernard.
Quite predictably, the highlight of Mines View Park is the mountainside view which you can check out from the observation deck. It was drizzling the day we went so it was pretty foggy. Mines View Park is also quite near Good Shepherd Convent where you usually go to buy neat freshly made pasalubong food items like strawberry jam, ube jam, peanut brittle, chocolate crinkles, etc.
If you're not fond of bazaar-shopping or horseback riding, you can eat and take photos.
Like this post? Subscribe to this blog by clicking HERE.
Let's stay connected: