Hubby and I were doing errands in the Pasig area one weekday when we decided to have lunch at Milky and Sunny in Kapitolyo, Pasig. I've been curious about this restaurant since last year but since we don't really frequent the Kapitolyo area, we haven't had the chance to try it.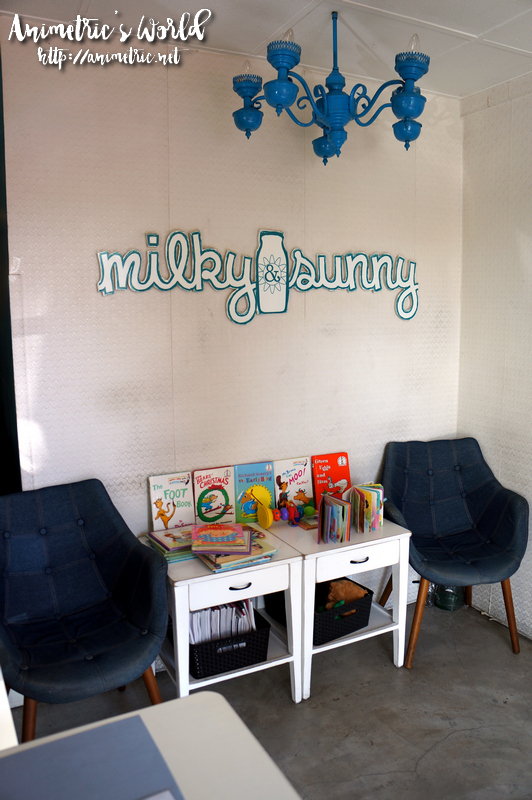 Milky and Sunny is a small place, quite cramped even. Everything is in white and blue.
The dining area is narrow and dimly lit, but since it was high noon, it was bright enough.
Hubby and I were so hungry because we had spent the entire morning at the Pasig City Hall. Hubby ordered Hamonado Longganisa (P130). You can opt to have either garlic rice or plain rice and an egg which you can have your way — sunny side up, scrambled, etc. Both of us said we wanted our egg poached and they agreed. The Hamonado Longganisa is on the sweet side, I liked that it had more lean meat than fat.
I had Garlic Longganisa (P130) — same drill, like hubby I had garlic rice and poached egg with it. Although I really liked how the longganisa tasted (really garlicky and flavorful), it had way too much fat and almost no lean meat. As a result I ate maybe 1/4 of each piece because 3/4 of each was pure tough fat.
We ordered Sunny Sardines Pasta (P190) to share. We were really hungry, lol. We both agreed that it was good. Slightly spicy (because of the Spanish style sardines they used), cooked in olive oil, and sprinkled with lots of parmesan cheese, it was quite a savory treat. It's served with a wedge of fresh lemon which I squeezed all over the pasta before eating. It's just more fresh-tasting with a hint of citrus flavor in the mix.
We both wanted to have dessert and we agreed that we had to try their famous pancakes, but for some reason instead of ordering something sweet we ended up with Cheesy Jalapeño Pancake (P250). It was supposedly one of their new offerings and it wasn't even on the regular menu yet so we ordered it instead of the dessert-type ones. I was expecting a pancake with lots of cheese and Jalapeño but what we got was something akin to a breakfast sandwich. Two pancakes had scrambled eggs and a whole lot of bacon sandwiched between them. It's drizzled with maple syrup and topped with sour cream and fried potato strings. It was really heavy and filling, I think both of us managed to finish just half of it. Taste-wise, we didn't think it was anything special and I believe it can easily be recreated at home. I have to stress that it was overflowing with bacon though. It's kind of pricey at P250 considering their dessert pancakes were all in the P100+ price range.
We had an okay lunch at Milky and Sunny food-wise and service-wise. Nothing special about the dishes but at least everything was reasonably priced. I find the place too cramped though and the air-conditioning can't really keep up with the high noon heat. Still, okay overall.
Milky and Sunny
9 East Capitol Drive
Kapitolyo, Pasig
654-2049
Like this post? Subscribe to this blog by clicking HERE.
Let's stay connected: