Now that I'm older, I'm lazier when it comes to makeup. I don't fancy spending too much time doing my face when I'm going out. Most days, I'm makeup-free. Of course there are times I need to look more presentable than usual and so I still buy makeup products on a regular basis. My latest favorite is Merythod Two Tones Color Stick Eyeshadow (₱472 when I bought it, the pricing fluctuates depending on the vouchers available).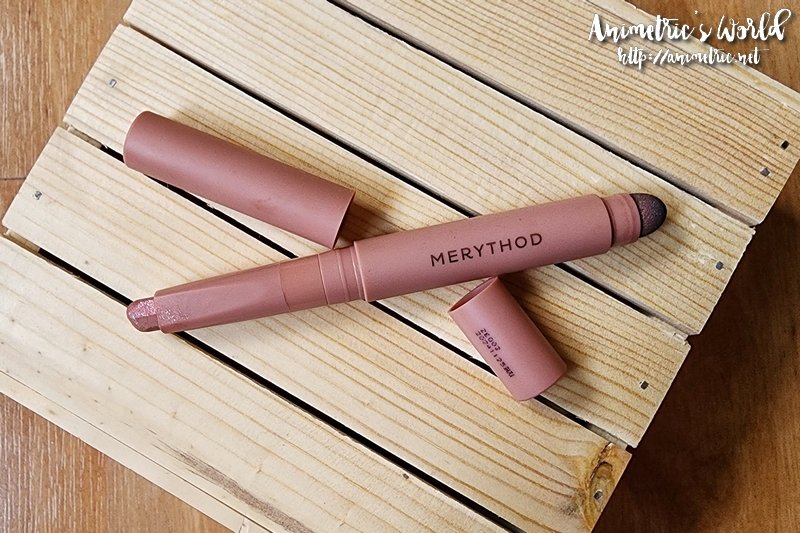 As the name suggests, it's an eyeshadow stick with 2 colors. It even comes with a blending sponge tip on one end. Everything you need in one stick! I love it. I got shade 07 Mauve Brown.
It's incredibly pigmented. In fact it's hard to remove. You're going to need a serious eye makeup remover (I use Banila Co Clean It Zero) because micellar water and face wash are not going to cut it.
Here it is when applied on the lids. It's very easy to blend with the sponge tip. Even if you're not a pro at makeup, just line your eyelids with the darker color close to the lashline and the shimmering lighter color on top of it. Blend upwards and outwards with the sponge tip. I finished off the look with eyeliner and mascara.
This product makes eye makeup quick and easy. I'm done in half the time that it usually takes me when I use powder eyeshadow. The colors complement each other perfectly.
Merythod Two Tones Color Stick Eyeshadow is currently my favorite eyeshadow product. It's available in 8 colorways so I'm sure you can find one you like.
What I like about Merythod Two Tones Color Stick Eyeshadow:
It's space-saving. I have very limited dresser space and so the fact that this comes in pen form makes it very easy to keep. That said it's also easy to bring along if you're traveling.
I don't need any more fancy tools other than the sponge tip for blending.
There are a lot of colors available.
It lasts until you remove it with a serious makeup remover. I applied it at 8am and it was still intact by 4pm.
It's buildable and blendable so you can make it as light or as dark as you want.
The pigmentation is top notch. I was shocked actually.
Cons? Nothing really other than it can be hard to remove if you don't have a serious makeup remover. By serious, I don't mean micellar water. You will need a cleansing balm or cleansing oil that works on waterproof makeup at the very least.
Bought this from the Merythod Flagship Store on Lazada. It ships from Korea since Merythod is a Korean brand. You're always assured of fresh stocks when you order there and the shelf life is at max length — I bought this 2022 and the best before date was 2025.
Like this post? Subscribe to this blog by clicking HERE.
Let's stay connected: