Cheez Whiz is something I grew up with. When I was a little girl, it was very easy for me to make my own sandwich because all I had to do was open a jar of Cheez Whiz, get a spoon, and then spread some its creamy cheesy goodness on bread. I just turned 40 and Cheez Whiz is 50, so we're not so far apart in terms of age, lol. Did you know that Cheez Whiz was first sold in the Philippines way back in 1967?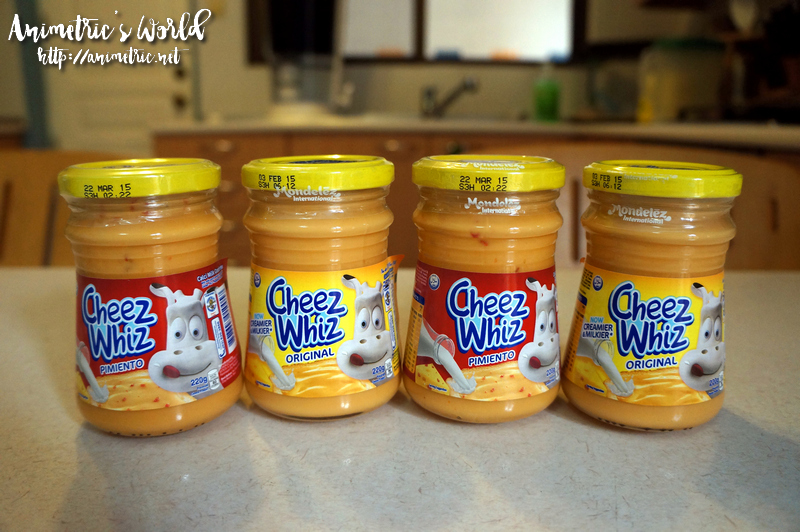 I now have my own kids and well, Cheez Whiz is still around to make snack time a lot more interesting!

You know how bento lunches and snacks are the rage these days? I tried my hand at it the other day. I got some crackers, luncheon meat, cookies, fruits, seaweed, and bread. I didn't really know what I was doing because well, I don't cook and I only have one super short bento-making workshop under my belt, lol! I don't even have the usual tools and knickknacks bento moms would use either. I had to make do with what I had on hand.

Since it's October, Halloween is just around the corner. What better way to spice up my daughter's merienda than to make a Halloween-themed snack bento! I got some round biscuits, put a circle-shaped luncheon meat on them and spread some Cheez Whiz. I covered it with another biscuit to form a Cheez Whiz and luncheon meat sandwich biscuit.

I covered the sandwich biscuit's face with Cheez Whiz and cut some pieces of seaweed to make eyes and mouths. Voila! Pumpkin sandwich biscuits! I cut the white bread into the shape of a ghost and used Cheez Whiz as glue to stick the seaweed eyes and mouth on my bread ghost. I got rectangular biscuits and stuck cross-shaped seaweed on them so they look like tombstones. Cheez Whiz as bento glue works like a charm. I then added some sliced kiwis, chocolate candies, chocolate bisuits, and luncheon meat bits to spruce things up more. This is my first time ever to make a bento at home. It's a mix of savory and sweet.

My daughter found it um… entertaining, lol! She loves cheese and she liked everything I put in so her merienda bento disappeared in a flash.
Cheez Whiz is available in 3 variants, Original, Pimiento, and the new Milky Delight at all leading supermarkets nationwide for around P70+ per 220g jar.
For more cheesy ideas, log on to http://cheeseanything.com.
Like this post? Subscribe to this blog by clicking HERE.
Let's stay connected: