Melissa is definitely my favorite shoe brand of all time. They're comfy, stylish, and they smell sooo…. cute! I was able to wear Melissa's 4-inch heels for 12 hours during my sister-in-law's wedding and that's quite a testament to how comfy they are. To date I have over 10 pairs. I started buying them back in 2010.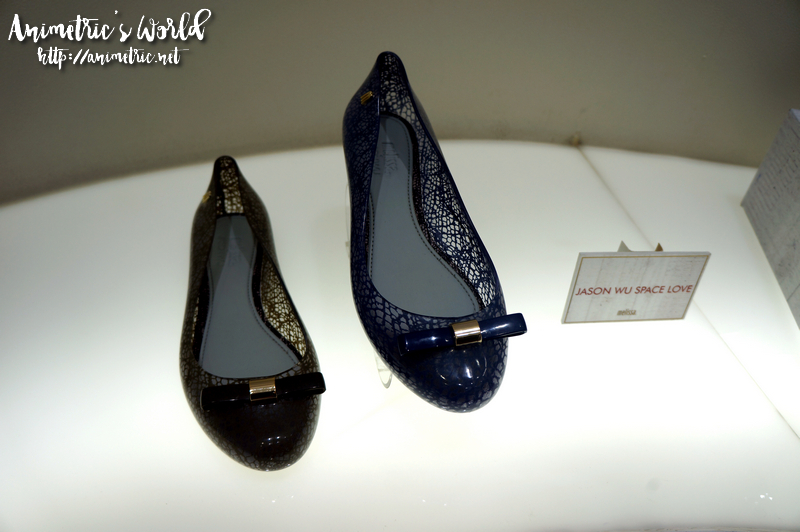 Last November (this is a ridiculously late post sorry!), we were given a preview of what Melissa had in store for the holidays and Spring 2016. Melissa's Holiday 2015 Collection is still in stores now. It's every flat-lover's dream come true because most of the lineup is comprised of flat shoes — ballet flats (like the Melissa Jason Wu Space Love P3,895), slinky sandals, slip-ons… you name it! Incidentally, kids can go matchy-matchy with mom since Mel has been repositioned as Melissa's bigger kids to tweens line. Mini Melissa would be for babies, toddlers, and smaller children.
That day I got to pick a pair of shoes for my daughter and I chose the Ballet Bow from Mel (P2,895). She's 11 and so her foot size falls under Mel. I got it in pink.
The pink Ballet Bow from Mel isn't really pink, it's looks more like pink-tinged silver.
For little girls, there's the Mini Melissa Ultragirl II (P2,250). They're perfect because they're easy to wear and very comfortable.
I was surprised by the intricately designed Melissa Campana Barroca (P3,250). Campanas have always been Melissa's unique take on flats and this one goes to a whole new level. The shoes look like they're carved from metal!
These are the Campana Barroca Sandals (P2,895). They're also inspired by Baroque art like the former. I love the wing straps!
These are the Jason Wu Harmonic (P2,495) strappy slip-ons. They look really comfy… I can imagine wearing them at the beach. They're also great for running errands or grocery shopping.
The Jason Wu Jean VI (P3,895) now come in darker colors for the cooler months.
Here's a peek at what's in store this Spring 2016 starting with these Flox High (P3,895) in bright colors.
If you prefer flats, you can opt for Flox.
Mini Melissa Ultragirl Star Wars (P3,250)
Mini Melissa Ultragirl IV Giraffe (P1,999)
Guess what I picked for me? I got pair of Melissa Flox Highs (P3,895). I love them! They're so comfy I can walk and drive as much as I want while wearing them.
Here's a closer look at the Melissa Flox High pair I picked.
Check out these styles and more at the nearest Melissa store. Log on to the official Melissa Philippines Facebook Page for more information and a complete list of retail outlets.
Like this post? Subscribe to this blog by clicking HERE.
Let's stay connected: