Most Saturdays, I bring the kids out to try something new. They eat a lot so it's usually some restaurant we haven't tried. Given that it's the -ber months already, weekend traffic seems even worse than weekday traffic. That said, I try to stay within Quezon City where we're based. I hate wasting time by idling on the road.
Last Saturday, my daughter and I tried out Megawatt along N. Domingo St. in Quezon City. I usually check the BigDish app to see which restaurants in the vicinity offer discounts. My son is currently in China for a school trip so it was just the two of us.
Whoa, Megawatt was like a 10-minute drive (or less) and we could get up to 50% off our bill by reserving our seats via BigDish!
Megawatt is situated on the 2nd level of a car wash complex. It's actually a great idea to have your car washed while you eat lol. I reserved 2 seats for 11am which entitles me to 20% off our total bill. The tables are made to resemble solar panels. They actually do use renewable energy though. The restaurant is powered by 2 solar panels. I liked how bright and cool (literally, their air-conditioning is great!) the place was.
We had Chick3 & Fries (P268). Three boneless pieces of chicken are fried to a perfect crisp. It's super flavorful already so you don't really need gravy. We opted for Fries (you can have this with Waffles) because my daughter has a penchant for Twister Fries. Their Twister Fries is as yummy as McDonalds'!
We also had Chicken Burrito (P225). One order is really huge. We ended up sharing one half of the burrito because it's so filling. It's filled with seasoned rice, shredded lettuce, salsa, and tasty fried chicken pieces that taste the same as the Chick3 & Fries we had.
We also had Seafood Garlic Pizza (P318). Eight slices are generously topped with shrimp, scallop, squid, and fish. It's white sauce-based so it's on the creamy side. I would've liked it to be more garlicky but hey, I'm amazed at how reasonably priced this is. At 20% off, it's down to P254.40!
We had Lick Giant Apple Tea (P138) to wash everything down. This brand is exclusive to Megawatt. It tastes kinda like Mott's Apple Juice, it's amazingly good. Lick teas are naturally sweetened with Stevia. I was surprised that it's a local brand.
Lick is available in 4 flavors: Peach, Giant Apple, Raspberry, and Lemon. I asked if this is available elsewhere. They said they're still working on it. At the moment, you can only get Lick at Megawatt.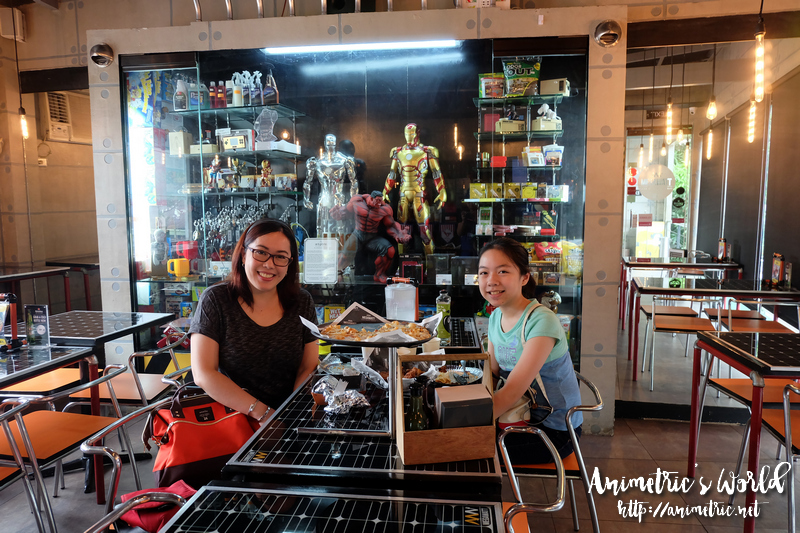 All in all we had a nice lunch at Megawatt. Total bill came out below P1k after the 20% discount was applied. We had the place all to ourselves so it was pretty cool. Gotta love the toys and novelty items on display behind us. Plus points for being a clean, comfy, and cool place to hang out. They have free wifi too! Funny how we've been having our cars washed below this resto for years and not know of its existence until BigDish.
Megawatt
41-A N. Domingo St.,
Bgy. Valencia, Quezon City
501-2987
Like this post? Subscribe to this blog by clicking HERE.
Let's stay connected: