**THIS ISSUE HAS BEEN RESOLVED. Apologies were extended and accepted, thoughts and thanks were exchanged. Lessons have been learned on all sides. Let's move on…**
I got this invitation in my email about a week ago…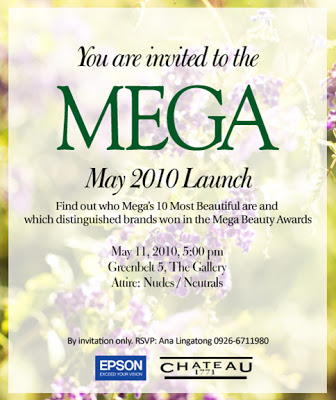 The event was being handled by a PR company called Events 100. I have been invited by them in the past but was not able to make it so I thought I'd say yes this time. I texted my confirmation to the person indicated and replied to the email. I got no response. Anyways, since mrsmartinez was also invited, we decided to go together.
We got to the venue at around 5:30pm. We were among the first ones there. We went to the registration table where two girls in black dresses were sitting. We wrote our names on the registry. We were asked what publication we were from and we told them we were invited as bloggers. The one holding the registry gave us a strange look. There was a pile of press kits on the table, brown envelopes with the MEGA Magazine logo. I picked up one, as did mrsmartinez. I opened the envelope and browsed through the contents. It had bond papers with photos and write-ups plus a CD copy. We were then told that the press kits were only for press people and that we could not get one. She was still wearing that indifferent, expressionless look. It was just a bunch of papers and a stupid CD, but we both gave it all back. She would not even look at us and acknowledge our presence. At that point we started to feel unwanted, but we moved inside and found a cocktail table to wait at.
As we were chatting amongst ourselves at the cocktail table, MEGA Magazine's advertising manager approached us. She asked us what publication we were from. We told her we were invited as bloggers. She asked if we already got press kits and copies of the May 2010 issue which they were launching. We told her no, because the press kits are limited. She told us that the press kits are for everyone and that they're just getting everything ready. She also told us that someone would approach us with our kits in a while. She invited us to partake of the buffet while waiting for the event to start.
Another girl in black approached us soon after. She was holding press kits. She asked what publication we were from. We told her we were invited as bloggers. She gave us a blank stare and a sheepish smile and walked away. In the meantime, we could see every single cameraman and utility crew holding press kits. Excuse me, cameramen do not write, as do utility crew members. They were given press kits on the basis of their huge press IDs, nevermind that their job description did not include writing or reporting.
There were no chairs at the venue since it was all cocktails and sosyalan (socializing). The invitation said 5pm, but the event started at 7:30pm. They made people stand and wait for a really long time since the VIPs were all late. Most of us were in heels too.
It was then that I stopped taking photos and decided I was going to be a bitch and let these people know what a blogger is, since most of them had no idea judging from all the blank looks we were getting. I was actually half-expecting them to shoo us away from the table up front that we were occupying to make way for more important guests… fortunately they did not go that far.
A blogger is in a sense an online editor and writer rolled into one. I am a blogger. I maintain this blog. I update it regularly with things that interest myself and my readers. Just like a magazine or newspaper, I have readers and subscribers. I can post whatever it is in real time because I do not have to wait for video editing, TV schedules, or printers to come out with my material. PR companies invite bloggers to events because blogs are now considered new media. Some blogs out there have more readers and followers than magazines. Whenever you search for anything on Google, it's usually blogs that appear on the first page of the results. This is why bloggers get invited to certain events. Case in point, try Googling "Mega Magazine Launch".
Throughout the event, they would hand out copies of MEGA Magazine's May issue to people they deemed worthy. Of course since they would not even give us a stupid envelope with papers, photos, and a CD, we were also not given the magazine. They also announced a raffle draw wherein they would give away two Anne Klein watches to those who would drop their cards in the bowl. I did not bother as I saw those girls in black sorting out the calling cards as if to pre-select who were deserving to win the raffle. Who was I anyway, I was not there representing any of the magazines I write for (all of whom are their competitors anyway). I have never felt so unwelcome or unwanted. Had I not run into my college friend and spent the better part of the evening chatting with her, I would have walked out of the launch.
I did not ask to be invited to this event. If they don't want bloggers around or do not know what a blogger is, they should not have contacted us in the first place. I don't say yes to every single invitation because I have many responsibilities and very limited time. That said, I do not appreciate having wasted hours of my life on something like this. I could have done a lot more like spend time with my kids, work on a writing deadline, or finish my inventory tasks at the office.
Anyhow, I think this is the last time I'll say yes to an invitation from Events 100 or MEGA Magazine because if I am not mistaken MEGA and Events 100 share some of the same people.