There's this dessert place in Hong Kong I love called Hoi Kee Walnut Place. I've always wished we had something similar here in the Philippines. Then I got invited to the media preview of Meet Fresh, a Taiwanese dessert chain. Looking at the chewy taro balls, Meet Fresh reminded me of Hoi Kee Walnut Place. Dessert is probably my favorite course in any meal. I always look forward to it.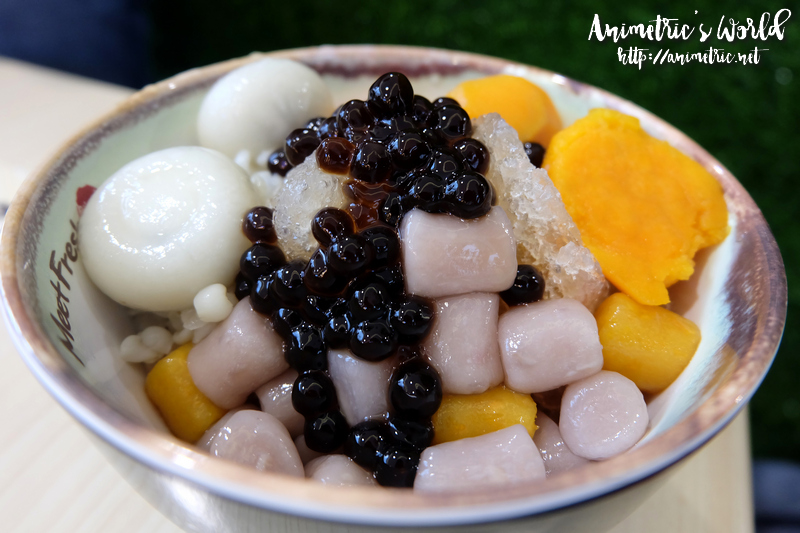 Anyhow, I ordered Icy Taro Ball (P220). This cold dessert is comprised of black pearls, chewy taro balls, and shaved ice. Anyhow after you order your base dessert, you then choose a combination. There are 5 available options:
Mung Bean & Barley
Sweet Potato & Barley
Red Bean & Peanuts
Red Bean & Taro
Kidney Bean & Rice Balls
After you make your choices, you need to decide on a sweetness level. There are only 2: 50% Half-Sweet and 100% Regular.
I ordered Icy Taro Ball with Sweet Potato & Barley then added an additional P40 for extra toppings. I picked Sesame Rice Balls. Anyhow, I found my Icy Taro Ball dessert very light and refreshing despite all the sticky glutinous balls in it. Instead of milk, the shaved ice is drizzled with what tasted like palm sugar syrup. It struck me as a bit ginger-y for some reason. Anyway, I loved how light it was. Had this been bathed in milk, it would've been too heavy.
This is the Signature Icy Grass Jelly (P220). It's comprised of taro balls, grass jelly, and grass jelly shaved ice. They give you 1 small pack of creamer for it too, hence the milky white liquid.
Want something for sharing? Get their Shaved Ice. It's bigger than the regular desserts and it's served with ice cream and shaved ice. This is their biggest, baddest one yet… the 8 Treasures Shaved Ice (P320). It has mung bean, sweet potato, barley, red bean, peanut, kidney bean, melon, jelly, and sweet potato balls.
Not a fan of iced desserts? There are hot soupy versions of their icy desserts and then there's stuff like Peanut/Sesame Mochi Combo with Almond Pudding (P120). Almond pudding topped with red bean is drizzled with creamer and then served with chewy peanut mochi and sesame mochi. The mochis are super yummy, but I found the almond pudding to be nothing special. The taste is reminiscent of the Almond Cake that Eng Ho Bakeshop in Binondo sells for maybe 15% of the price?
Meet Fresh has teas and milk teas too. I ordered the no-frills Fluffy Black Tea (P130).  Their drinks come in only one size and it's big. I asked what "Fluffy" means. They said if the drink name has the word Fluffy on it, it means it's topped with cream. This one tasted like strong Lipton tea with cream on top, not too remarkable. I'd like to try the more unique drinks like Milk Tea with Mini Taro Balls or Fluffy Herbal Tea with Grass Jelly next time.
Anyway, I'm definitely taking hubby and the kids to Meet Fresh so we can try more of their offerings next time. I'm curious about their Tofu Pudding and Hot Almond Soup.
Meet Fresh
5/F The Podium
12 ADB Ave., Ortigas Center,
Mandaluyong City
Like this post? Subscribe to this blog by clicking HERE.
Let's stay connected: