I stayed at home for most part of today doing my usual spring cleaning. We have way too much stuff. Anyhow I figured it was a good time to use a mask since I wasn't going anywhere. I examined my face and decided my skin looked problematic and blotchy. Gauging my skin's current condition is a prerequisite to deciding which mask to use. So anyway, I took out my Mediheal Airguard Foilab Mask. I got the Waterful variant. When you're in your 40s, your skin needs as much moisture as it can get.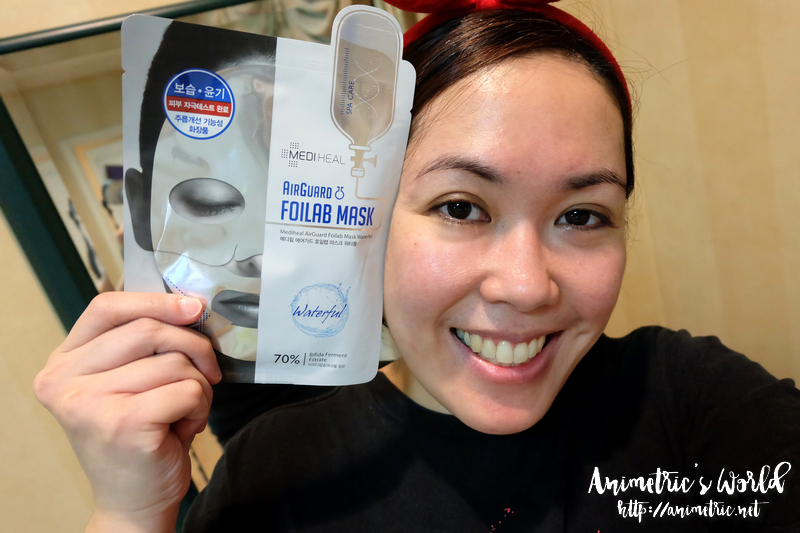 Mediheal, like Leaders, is a brand founded from the prestigious medical beauty school in Seoul University in Korea. Their products are developed by skin experts and dermatologists who understand and know skin best.
This is the Mediheal Airguard Foilab Mask in Waterful (P189). It promises wrinkle care, hydration, and brightening. It's supposed to give you the spa effect at home. The mask has 3 layers. Unfortunately, I can't read Korean so I can't really identify what they are save for the foil on top. The layers keep the moisture essence from evaporating. This mask also contains 70% Bifida Ferment Filtrate, a type of bacteria found in the digestive system (think Yakult type benefits). It's known effect on skin is intense hydration.
The mask comes in 2 parts — one for the upper face and one for the lower face.
I think it's pretty funky. Like most masks, you leave it on for 20 minutes. I felt like some sort of superhero while it was on my face.
My face felt slightly sticky after removing the mask. A couple of hours later, the essence had completely dried and the slight sticky feeling was still there. On days when I'm too lazy to do my multi-step skincare regimen, I just wash, tone, and slap on a mask. That pretty much gets the job done since a mask is more intensive compared to my daily moisturizers and serums.
What I like about Mediheal Airguard Foilab Mask:
It's very moisturizing. Even my hands felt smooth afterwards because a lot of the essence went to my hands while I was putting on the mask. That's a big check on the waterful claim.
I find it easier to put on since it comes in 2 halves.
It has a light pleasant scent typical of most Korean sheet masks.
It's pretty easy to come by since you can buy it at Watsons and Lazada.
While it's not the best mask I've tried, it does the job. The main downside for me is the lasting slightly sticky feeling. It's quite pricey too at almost P200 per pack. I actually like the Mediheal Greenteatree Meshpeel Mask a lot better, but I'll be raving about that in another post.
Mediheal Airguard Foilab Mask is available at Watsons and Lazada for P189 per pack.
Like this post? Subscribe to this blog by clicking HERE.
Let's stay connected: