Maybelline Philippines sent a few shades of their latest lip color product, Maybelline Lip Gradation, for review some days ago.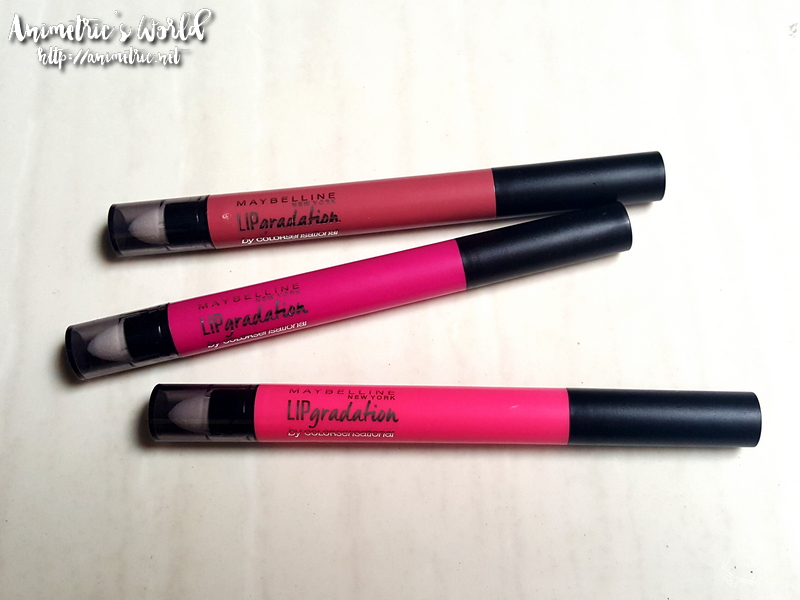 I have a thing for lip color lately, which is ironic considering I used to think of lipstick as a non-essential beauty product. I was perfectly content with colorless lip balm. It took one instance of having made up my entire face and then forgetting to put on lipstick to make me realize just how lip color seals the deal when it comes to your look.
It's a dual-ended lip product with a sponge tip on one end and lip color on the other end.
I got three shades to try: Mauve 1, Pink 1, and Fuschia 1. Wow, the level of pigmentation is amazing!

Maybelline Lip Gradation is a actually a matte lipstick which you can apply several ways thanks to the sponge blender tip. This is Mauve 1. You can do it Korean gradient style and just apply color to the center of the lips and blend outwards using the sponge tip.
This is how Mauve 1 looks indoors under artificial light.

This is Pink 1. I love how the lipstick glides on smoothly despite being matte.
 Indoors with Pink 1.
I found Fuschia 1 to be surprisingly likeable. I normally steer clear of hot pink or fuschia but I like this one! If you want full on matte lips just use the lipstick as you would any other normal lipstick.
 It looks surprisingly natural indoors.
What I like about Maybelline Lip Gradation:
They're all highly pigmented. As in wow, one swipe and you get a load of intense color!
I love how versatile they are, you can wear them in so many ways.
They glide on smoothly.
They're not drying unlike other matte lip products I've tried.
They're not hard to remove.
Price is very reasonable at P399 per tube.
Downside? It will be a challenge to use this product on severely chapped and dry lips. I recommend using a lip scrub and moisturizing treatment (lip balm, lip mask, etc.) before using this product for best results.
Maybelline Lip Gradation is available at P399 per tube at leading department stores and drugstores nationwide.
Like this post? Subscribe to this blog by clicking HERE.
Let's stay connected: