This year, Maybelline celebrates its 100th year of beautifying women all over the world. As a treat, Maybelline Philippines is bringing in its iconic Maybelline Great Lash Mascara for a limited time.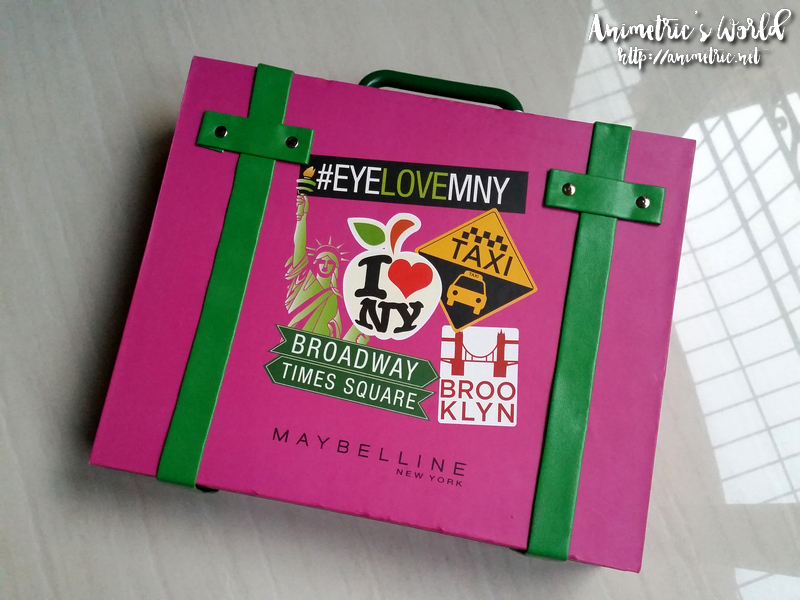 I got this absolutely fabulous mini brief case from Maybelline Philippines a couple of weeks back.
Inside were Maybelline beauty goodies in pink and green, the colors of Maybelline Great Lash Mascara's packaging. Maybelline Philippines also gave away free full-sized tubes of Maybelline Great Lash Mascara at Sample Room recently.
This is the star of the show, Maybelline Great Lash Waterproof Mascara!
I got a tube of Maybelline Great Lash Waterproof Mascara with matching eyelash curler, 3 pots of Maybelline Color Ink Eye Shadow, 2 bottles of Maybelline Color Show Nail Polish, and a tube of Maybelline Colorsensational Lipstick.
I can't believe this is the first time I'm trying this! It's been one of Maybelline's most popular products for years.
Oooh, promising! I prefer slim and clean-looking wands like this one.
It's a conventional and straightforward mascara wand, nothing particularly shocking in terms of design. I like how the product isn't clumping on the brush tip.
Without Mascara VS. With Maybelline Great Lash Mascara
Okay I'm pretty impressed with the length and definition Maybelline Great Lash Mascara imparts.
It's like wearing falsies but without the weight.
Wow I can see my lashes even from this distance!
Anyhow when I got home I decided to find out just how waterproof this mascara is. I practically poured water on my entire face.
Impressive! Even when drenched with water, my lashes are still curled, defined, and extra long! No smudging, streaking, or running.
What I like about Maybelline Great Lash Mascara:
It's not sticky and it doesn't clump, making it very easy to apply.
It lengthens, defines, and lifts lashes — very neatly at that.
It's super lightweight so your lashes don't feel heavy. It feels like you don't have any mascara on.
It's waterproof — won't smudge, smear, streak, or run.
It's not hard to remove.
It's affordable at P350 per tube.
It's fragrance-free. I don't like mascaras with weird scents.
It's easy to find becaise it's available practically everywhere!
Downside? None at all! I really really LOVE this mascara.
Maybelline Great Lash Mascara is available for P350 per tube at all leading department stores and drugstores nationwide.
Like this post? Subscribe to this blog by clicking HERE.
Let's stay connected: