And it's my first BB Cream review for 2014! This is actually my 22nd BB Cream review and it's from Maybelline — Maybelline Clear Smooth BB White (P299)!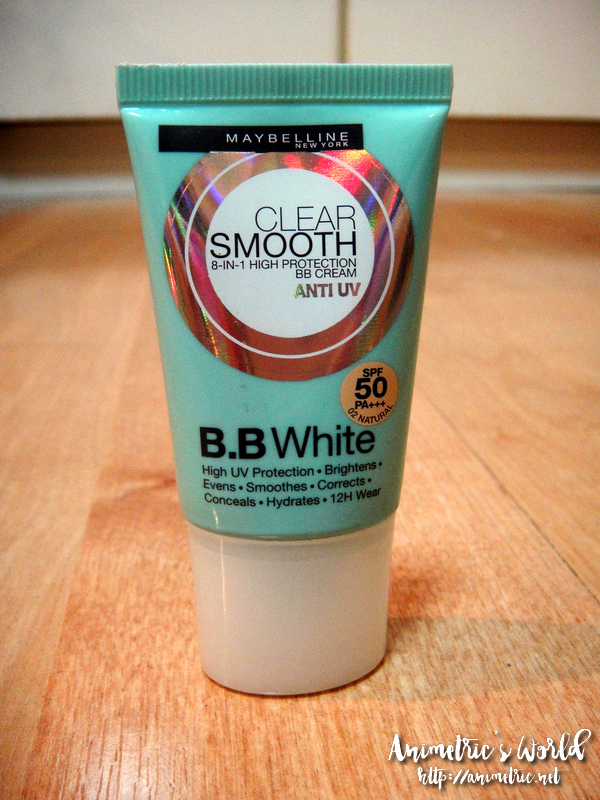 I got Maybelline Clear Smooth BB White SPF 50 PA+++ in Natural. There is a lighter shade called Fresh but this was what was sent to me.
Upon first glance it came across as a nice flesh tone, not too light and not too dark.
It was surprisingly easy to blend, not at all sticky or overly thick.
This is my before and after photo, I actually felt that it made my face just a tiny bit darker than normal. It's very dewy if you notice, my skin already has a sheen to it right after application. I wonder how the lighter shade would look on me. From the before and after shot all I applied were BB Cream, eyebrow pencil, eyeliner, mascara, and lipstick.
This is how it looks under natural light. Quite natural I must say.
This is a photo taken several hours after application after I had returned home from an event. My face was really shiny, I kept blotting all throughout.
What I liked about Maybelline Clear Smooth BB White SPF 50 PA+++:
The shade! It's so natural I was able to take photos right after application, there's minimal setting time and there was no white/gray/pink cast.
The texture and consistency are great — easy to blend so you don't look like you're wearing anything.
The price — only P299 per tube! I actually like its small size because I get bored easily and I'm always trying new products. That way I won't get stuck with it for a long time.
It's got high SPF so you don't need a separate sunscreen.
Downside? If you have oily skin this product will make your face shine like a light bulb because there's zero oil control. I would only recommend this to people with dry skin. I was blotting all throughout the day because my face would get so greasy.
Maybelline Clear Smooth BB White SPF 50 PA+++ is available for P299 at leading department stores and drugstores nationwide.
Like this post? Subscribe to this blog by clicking HERE.
Let's stay connected: