Hello and welcome to another edition of Baking Magic with Maya! My daughter has been immensely enjoying our Maya baking projects and for our third session, we made Maya Fun Cakes using Maya Pancake Mix!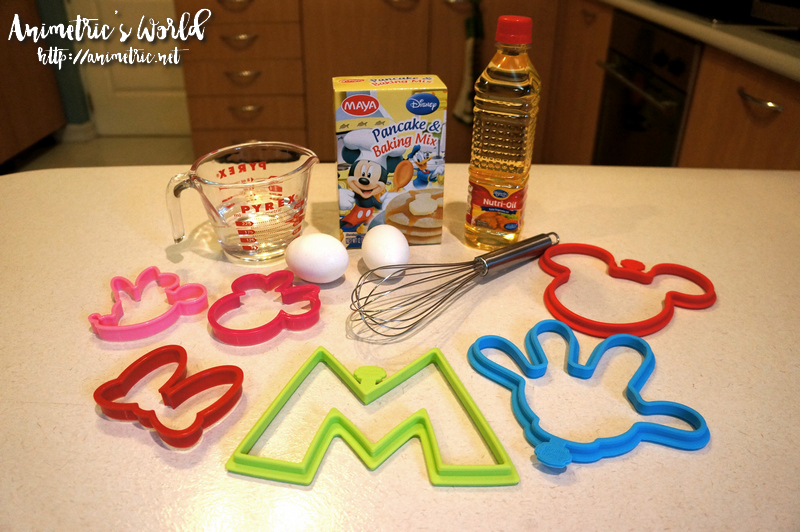 It's actually very easy to do — all you need is a 350g box of Maya Pancake Mix, eggs, vegetable oil, and water.
We're making our Fun Cakes Mickey Mouse-themed, inspired by the Mickey Mouse packaging of Maya Pancake Mix.
We pretty much just mixed all the ingredients together. This is an excellent activity for younger kids. My daughter is 11 years old and can pretty much handle the more complicated baking procedures but she enjoyed making Fun Cakes all the same.
She insisted on doing all the mixing.
We actually added a bit more water than what the recipe stated because we were adding an additional ingredient…
That additional ingredient is mashed ripe bananas! My kids aren't too fond of syrup and so we would usually add bananas when cooking pancakes to give them a natural sweetness. Of course, bananas pack in more nutrients too! 🙂
We mixed in the bananas into the pancake batter.
Then we proceeded to cook up some Fun Cakes! I love the Mickey-shaped silicone molds. I filled each with pancake batter and flipped them to cook both sides.
This Mickey Mouse head is our first Fun Cake.
We proceeded to make a couple more!
Then we had the Fun Cakes for merienda! They were nice and chewy, the bananas added some extra oomph. My kids prefer their pancakes with just butter and fruit. I'm sharing the recipe below.
My daughter was able to do all of the Kid Friendly Tasks herself. Next session, we'll be making cupcakes so stay tuned!
Like this post? Subscribe to this blog by clicking HERE.
Let's stay connected: