Who likes cake? I do! More so when they're freshly baked. But what if you can bake your cake and eat it too in about 2 minutes? That's exactly what you can do with the Maya Happy Mug Cake. All you need is some water and a microwave oven. The best part is, it's cheaper than a slice of cake at P40 per serving.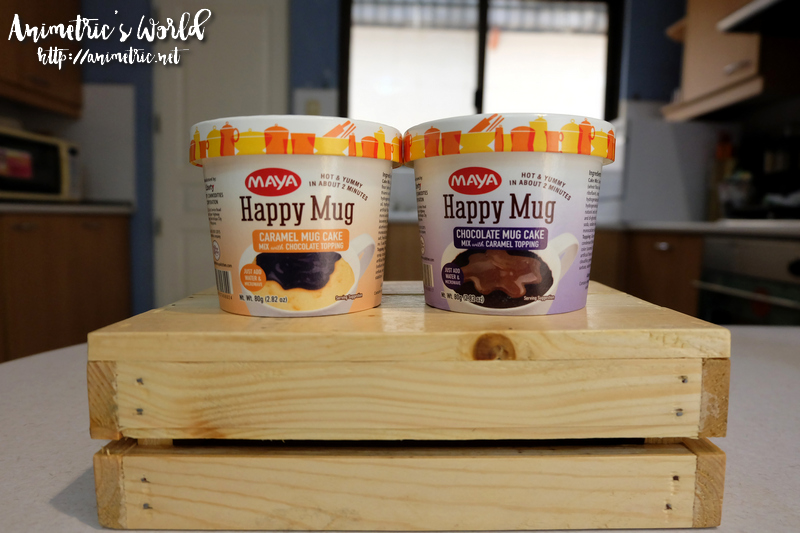 Are they good though? I tried the 2 Maya Happy Mug Cake flavors — Caramel Mug Cake with Chocolate Topping and Chocolate Mug Cake with Caramel Topping.
Each kit contains 3 things: a sachet of cake mix powder, a sachet of topping, and a small wooden spoon for mixing and eating.
Fill the container with water up to the recommended water level line printed on the package. Add powder and mix well. That's it!
Pop the uncovered "mug" into the microwave oven. Microwave for 1.5 minutes.
Voila, you have instant piping hot freshly baked cake!
Pour the topping over the cake.
Time to dig in! The Maya Happy Mug Cake is so easy to make even kids can do it, just make sure you supervise the younger kids. You can add additional toppings like  slice bananas, marshmallows, and chopped nuts to make the cakes more interesting.
Taste-wise, I really love the Chocolate Mug Cake with Caramel Topping. It's very rich, moist, and chocolatey. The caramel topping is really delicious too! Definitely worth trying. The Caramel Mug Cake is okay, the taste reminded me of Maya Pancakes and the chocolate syrup is similar to the bottled kind you can buy in supermarkets.
Would I buy again? Yes I would, but I would most likely stick to Chocolate Mug Cake with Caramel Topping since the other variant didn't really do anything for me.
The Maya Happy Mug Cake is available for P40 each at leading supermarkets nationwide.
Like this post? Subscribe to this blog by clicking HERE.
Let's stay connected: