My hubby and I got stuck in heavy traffic at the Ortigas area yesterday. It was rainy and it was past noon… and we hadn't had lunch yet! Thus we decided it was a good time to try Matgalne Korean Restaurant, a place we had heard a lot about from various food blogs. They have a P299 eat all you can lunch buffet promo ongoing until the end of August. It will go up to P399 next month.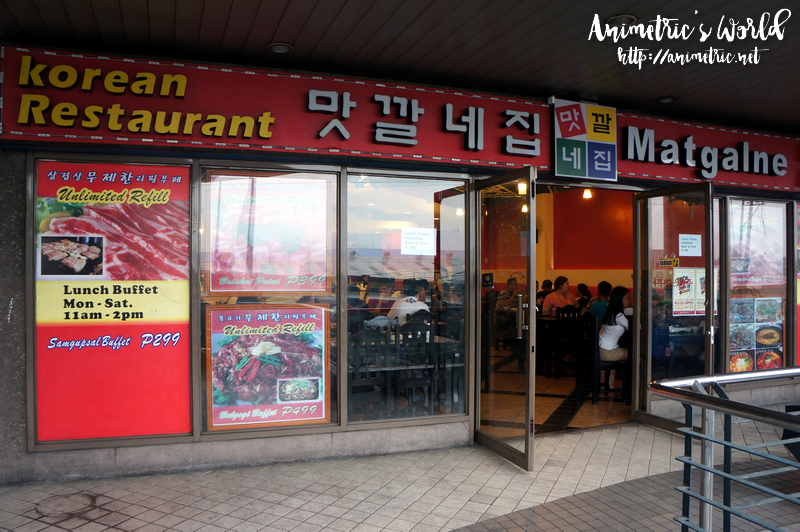 Matgalne Korean Restaurant has two branches. There's one in Ortigas and one in Makati. The Ortigas branch is located on the second floor of the Millenium Building across Metrowalk.
The restaurant was packed when we got there (it was around 12:40pm). Hubby and I were so hungry we agreed to "share" a table with another party by occupying the last two seats at the end. Matgalne Korean Restaurant serves food buffet style. You go around a long rectangular table where rice, soup, various banchan (Korean side dishes) and short order dishes are laid out.
Each table is equipped with a cooker where you can fry the meats.
I went around the buffet table immediately because I was so hungry. I was immediately drawn to the Kimbap (steamed rice with filling wrapped in seaweed). I had a lot of these in Korea last year, lol. They are kind of like sushi except that they're not filled with raw seafood.
There were honey-glazed sweet potatoes sprinkled with sesame seeds. Yum! These are more nutritious compared to regular potatoes so it's great!
Of course, my favorite kimchi (spicy fermented veggies) was available too. I seriously love kimchi. I ate hubby, son, and daughter's shares when we were in Korea because they can't take how spicy it is lol. I can have lots and lots of this.
Matgalne's egg rolls are unique because they are filled with savory minced veggies which when eaten sort of remind me of pizza but not really. Did that make sense? Hahaha, just try it for yourself. It's delicious!
Here's something unique to Matgalne: a Janchi Guksu station! Janchi Guksu is a Korean dish comprised of noodles, vegetables, and broth. At Matgalne, you can make your own by following the simple instructions printed on a laminated card.
I did try making my own Janchi Guksu. Everything you need is there.
There's also a DIY Bibimbap station with a similar laminated instruction card.
Here's my Bibimbap creation! I didn't put too much rice lol, so it's mostly the veggies that you see. It may not look like an award-winning dish but it was soooo good.
What Korean eat all you can buffet is complete without japchae, right? 😀
These are breaded frankfurters drizzled with ketchup.
There's also single serve salad as part of the buffet. Everything is already "rolled" into the lettuce leaf so you just take one packet and add some dressing.
There's a variety of condiments like this Korean soybean paste which I love so much as well as various veggies and leaves you can use to wrap your meats with.
You can have unlimited amounts of beef…
…and pork belly (samgyupsal). All you have to do is ask.
We cooked our meats on the tabletop grill. The beef reminds me of bacon, I liked it a lot! I usually dip the meats in soybean paste. Soooo yummy!
For dessert, I had these banana fritters.
Hubby and I had a very satisfying lunch at Matgalne Korean Restaurant. For P299, I feel you get more than your money's worth (imagine at other places P299 just gets you one dish). Everything is fresh and delicious. It's evident from the taste of the food that they don't use MSG. There were actually more dishes at the buffet table but I only photographed the ones I actually tried. I was told the buffet dishes vary though (I'm guessing that what's served depends on what ingredients are on hand or in season) so you may find slightly different offerings when you go visit. Their lunch buffet is from 11am to 2pm. Their dinner buffet costs P399 and is ongoing from 6pm to 10pm. I suggest going early so you can get good seats.
I love Korean BBQ and Matgalne definitely offers good value for money. My only complaint is perhaps the air-conditioning (they do have a few electric fans to compensate) but since it was a rainy afternoon I didn't really feel that hot.
By the way… they are closed on Sundays.
Matgalne Korean Restaurant
2/F Millenium Place Bldg.,
Meralco Ave., Pasig City
632-9714
Like this post? Subscribe to this blog by clicking HERE.
Let's stay connected: