Some weeks ago we were invited to dine at Matgalne Korean Restaurant in Makati. It was a thank you for blogging about Matgalne Ortigas.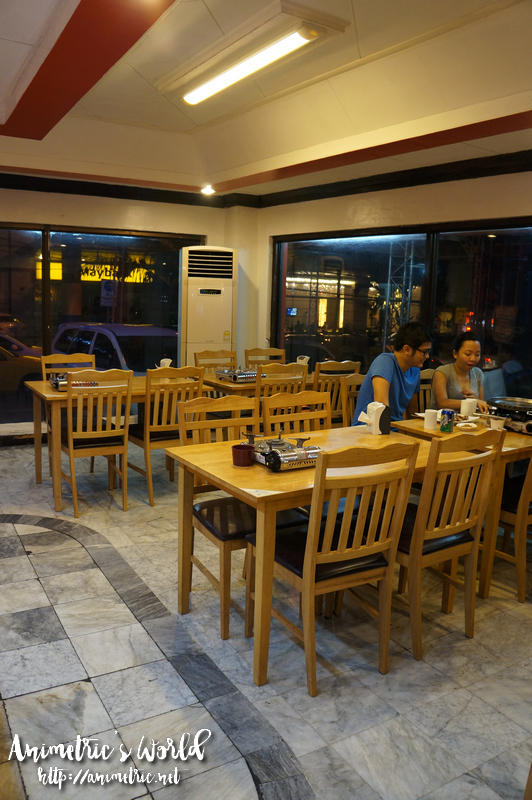 I haven't been to the Makati branch so I said yes. I found it to be brighter and more spacious compared to Ortigas.
Matgalne Korean Restaurant is known for its eat-all-you-can lunch and dinner buffet. For P399 to P499 (depending on what you choose), you get access to an extensive spread of various Korean dishes and banchan (side dishes).
You can even make your own Bibimbap as all the ingredients are available.
Of course, there was japchae (Korean sweet potato noodles).
Yay for Kimbap (steamed rice and ingredients like carrots, egg, cucumber, spam, etc. rolled in seaweed… kinda like sushi)!
I can never get enough of Kimchi.
You can even have unlimited fried rice to go with everything.
I love their glazed sweet potatoes.
Rice balls wrapped in seaweed strips remind me of the Japanese onigiri.
Yummy egg rolls!
Matgalne is most known for its unlimited grilled meats. You have an option between sukiyaki-style sliced beef strips or samgyeopsal (pork belly).
I like how their cooker drains away all the oil. I usually wrap the meats in lettuce, put in some pickled radish, and then spread some Doenjang (Korean soybean paste) over it. I eat it all in one bite, lol! Soooo good, really the best way to eat Korean BBQ in my opinion.
We had banana fritters for dessert, also available at the buffet area!
Hubby and I had a photo opp with the owner of Matgalne Makati, she's a really nice lady. 😀
The outside of the restaurant doesn't really say Matgalne, what you will see is that sign above. There are a couple of parking slots right out front but you can also park at the sides. Every visit to Matgalne never fails to satisfy my craving for Korean BBQ! I love how they make splurging an affordable experience.
Check out the Matgalne Facebook Page for promos and discounts, they usually have something going on.
Matgalne Korean Restaurant
4768 Kalayaan Ave. cor. Mariano St.,
Poblacion, Makati City
890-3949
Like this post? Subscribe to this blog by clicking HERE.
Let's stay connected: