Before dropping by Excelente Chinese Cooked Ham, we passed by Master Hopia Factory first. We were told that the hopia (Chinese bean-filled pastry) here had been toted as the "Krispy Kreme of hopia" by another blogger. That pretty much upped everybody's expectations… which isn't really a good idea because the higher they are the harder they fall should the product fail to deliver… :p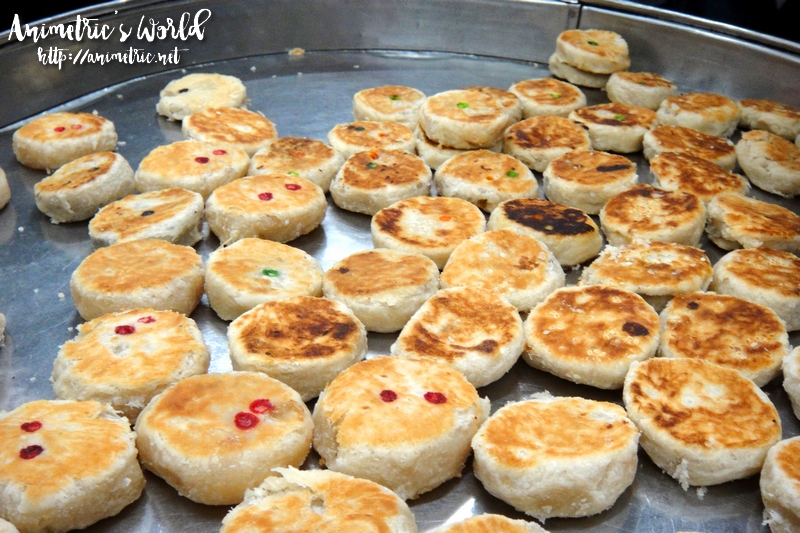 Anyhow there were huge trays of hopia everywhere. They set up one such tray in the middle of the store so everyone could get some and have a taste. There are numerous flavors available: Cheese, Condol (paste made from Chinese crystal sugar), Pineapple, Macapuno-Pandan, Baboy, etc. You identify the flavors by the colored dots on the surface of the pastry (see above). Orange dotted hopia are cheese-flavored, green dotted hopia are filled with condol, and so forth. No dots on your hopia? That means you got the traditional mung bean filled one. 🙂
I tried three different variants while I was there. I was lucky enough to score a cheese-flavored one on my first try since we were told there were only 2-3 pieces on the tray. Sadly, it wasn't really cheesy. Yes I tasted hints of cheese but that was about it. Next up was a traditional mung bean hopia. It was okay, and I actually liked it best among the three I sampled. Last one I got was condol, which is the one in the photo above. Condol hopia is way too sweet. I ended up taking one bite and then disposing of it.
I'm thinking that these would've tasted a whole lot better freshly baked. The outer shell is very flaky and the amount of filling is quite generous. Price can be pegged around ₱15-P20 a piece.
Our stop at Master Hopia Factory was interesting to say the least. I hope they start selling these online.
Master Hopia Factory, Inc.
206 Villalobos cor. Carlos Palanca St.,
Quiapo, Manila
Like this post? Subscribe to this blog by clicking HERE.
Let's stay connected: