I got to try using Masflex Cookware early this year. After our helper left during the first ECQ, I had been slowly replacing all our worn out pots and pans. I got an induction-ready non-stick saucepan from Masflex and I've been using it for several months now. My sister-in-law has been telling me to try stainless steel pans because they don't have the non-stick coating that can be toxic if they start peeling off. So here I am with a set of Masflex Premium Series Stainless Steel cookware.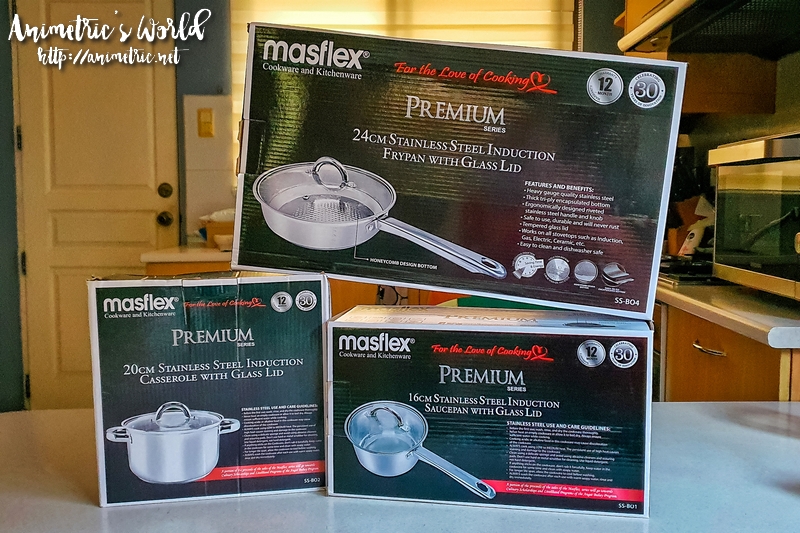 Anyhow I got a 24cm Frypan, 20cm Casserole, and 16cm Saucepan — all with glass lids. I haven't actually tried cooking with them yet as they just arrived yesterday but I'm looking forward to doing so. They're being sold as a set at the Masflex Official Shopee Store for P2,584. You can even get a Masflex apron for only P200.
I was surprised at how lightweight these Masflex Premium Stainless Steel pots and pans are. I could carry the entire shipping box which contained them all quite easily.
These are made of high gauge quality stainless steel that won't rust. The tempered glass lids will ensure that there's no danger of breakage. I was surprised to find out they work on all stovetops: induction, gas, electric, etc. They're also easy to clean and dishwasher safe which is a plus since we use the dishwasher a lot.
Do check out the Masflex store on Shopee for your cookware and kitchenware needs. I like how this brand is so affordable while at the same time functional and reliable. Take advantage of the Shopee 11.30 Payday Sale and add those kitchen essentials to cart.
Like this post? Subscribe to this blog by clicking HERE.
Let's stay connected: