A couple of weeks ago, I had a chance to sample celebrity food blogger Erwan Heussaff's cooking. It was a rather hush-hush and limited event for his mobile game, Market Master Erwan.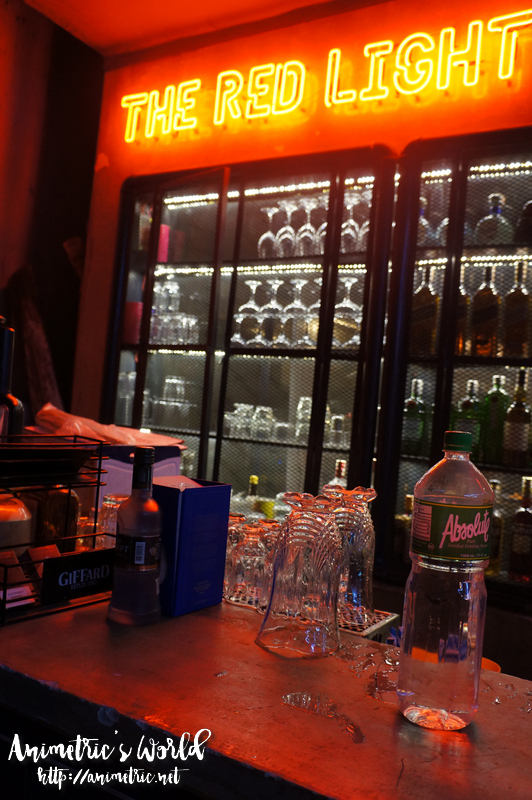 We were asked to proceed to The Red Light, a tiny hole-in-the-wall located on a sidestreet near Makati Avenue. It's where Erwan shoots cooking videos for his blog.

Erwan was cooking dinner. We were all handed a copy of the menu which included Ceviche & Chicharon, Steak & Kimchi Rice, Orange Leche Flan, and Lemongrass Iced Tea.

There were around 5 bloggers (me included) and a handful of contest winners present. Everyone was excited to eat!
Each of us took our place around Erwan, watching him cook and plate food while we sipped on some refreshing Lemongrass Iced Tea. He's really hands-on in the kitchen!
He also has a penchant for healthy ingredients. He used fresh meat and veggies, brown rice, lots of herbs and spices… I noticed the absence of MSG, which is great.
He really was serving everyone dinner. Wow.
Ceviche & Chicharon
First dish on the table was Ceviche & Chicharon. It was our appetizer. Citrusy and refreshing, I liked the combination of fish, shrimp, and fresh veggies.
OMG. Seriously there should be more guys should cook… while totally rocking a floral apron… and looking like a million bucks while they're at it. Well at least now we know Anne Curtis Smith will be well-fed, lol!
Erwan was the picture of pure concentration in the kitchen.
Steak & Kimchi Rice
Our main course, Steak & Kimchi Rice, was the best dish of the night for me. The steak was done perfectly medium — pink, tender, and naturally juicy. In fact it was so tender I didn't need a knife to eat it. It's so flavorful (even if it was just seasoned with salt and pepper) that I didn't need any sauce either. The Kimchi Rice wasn't too spicy and the brown rice gave it a chewier texture which I really liked. The soft-boiled egg on top complemented everything else on my plate.
Watching Erwan do his thing in the kitchen was a treat in itself.
Orange Leche Flan
For dessert Erwan whipped up Orange Leche Flan garnished with Salted Caramel Popcorn. Waaaah he gave me such a huge slice, maybe I look like I eat a lot? The others had maybe half of this.
Um yeah, huge. I wasn't able to finish it because I was so full.
Here with Xeleb President and CEO Raymond Racaza and Erwan Heussaff… because this isn't just about Erwan cooking us dinner…
It's actually a pocket launch for Erwan's mobile game Market Master Erwan. You can download this from Google Play. It's only available for Android devices at the moment.
So in Market Master Erwan, you choose a dish to make…
…then you check what ingredients you need for it, after which you click PLAY.
You're transported to the supermarket where you shop for the ingredients you need to cook the selected dish.
If you complete the task quickly (I did with 10 seconds to spare), you'll get a high score and a resounding Bravo! from Erwan. You unlock new dishes and levels as you go along.
Market Master Erwan is free to download and play for 3 days. After the third day, it costs P5 a day to play. It's pretty addictive… I couldn't stop playing once I got started. It's a casual game that's great for passing the time say when you're waiting for your turn at the doctor's office or something like that. Try it!
Like this post? Subscribe to this blog by clicking HERE.
Let's stay connected: