I like doing everything I can online. It saves me gas, time, and money. It also saves me from the insane summer heat since I can pretty much do everything in an air-conditioned room with a gadget. In the past year I've bought everything from clothes to cosmetics to fresh produce and grocery items online. Now let's add medical services to that long list, made possible by Maria Health.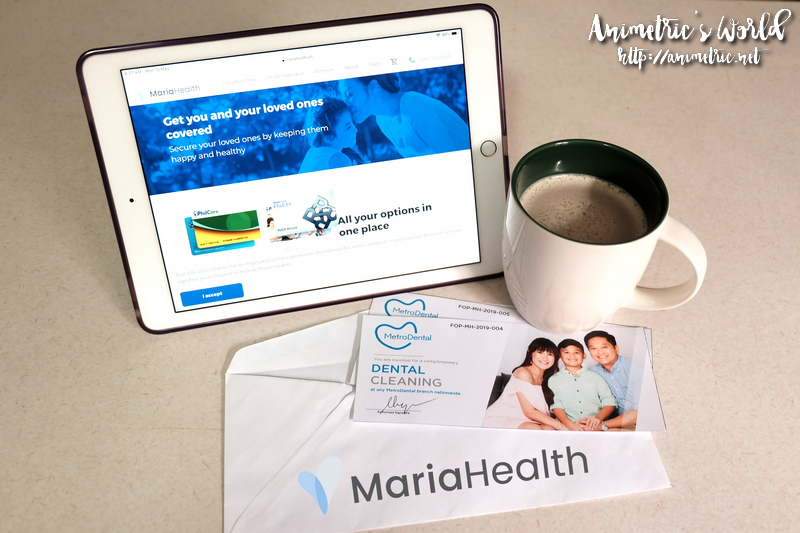 What is Maria Health? Maria Health is a one-stop online shop where you can avail of every kind of medical service and/or health plan. From consultations with doctors or dentists to services like blood tests, x-rays, and oral prophylaxis, Maria Health has them all. What's more, it's actually CHEAPER to avail of these services via Maria Health as opposed to going straight to the establishment.
Okay, so let's look at the Metro Dental services from Maria Health. My daughter is going to get braces and she needs oral prophylaxis and a panoramic x-ray before we visit the orthodontist. Normally, dental cleaning costs anywhere from P1,500 to P2,500 while panoramic X-Ray is pegged at P1,000 to P1,500. Both services will cost us a minimum of P3,000. But if I buy a Metro Dental White Pass from Maria Health, I only need to pay P965! I was really surprised at how much cheaper it is to just get a package. What's more, you can pay easily online via major credit cards or Paypal. You can also pay over-the-counter or via bank deposit if you prefer.
Aside from dental services, Maria Health offers comprehensive medical plans with Medicard, Philcare, and Maxicare. If you don't know where to start, you can request for a free proposal. Or you can simply choose from existing prepaid packages online. Here are a few of their offerings:
Pre-employment Package (P650) – Includes CBC, Fecalysis, Urinalysis, Chest X-Ray, and full medical exam
Yaya / Driver Package (P850) – Includes Fecalysis, Hepa A Test, Hepa B Test, Chest X-Ray, and CBC
Executive Health Care Program (P8,650) – Includes over 20 diagnostic tests ranging from CBC to Lipid Profile.
You can avail of ambulance coverage, emergency coverage, hopsitalization packages, unlimited consultations, and accident insurance as well.
Do check out https://mariahealth.ph/ — promise it's worth it!
Like this post? Subscribe to this blog by clicking HERE.
Let's stay connected: