So… I'm not going to blog about food while I'm on the Prolon 5-Day Diet Program. I've been reduced to eating nothing but soup, kale chips, olives, and nut bars. Then drinking lots organic teas and taking supplements. I'm so hungry. Anyway, while on this diet I've done a lot of things to distract myself. One of them was color my hair Hot Hot Pink using Manic Panic vegan hair color cream.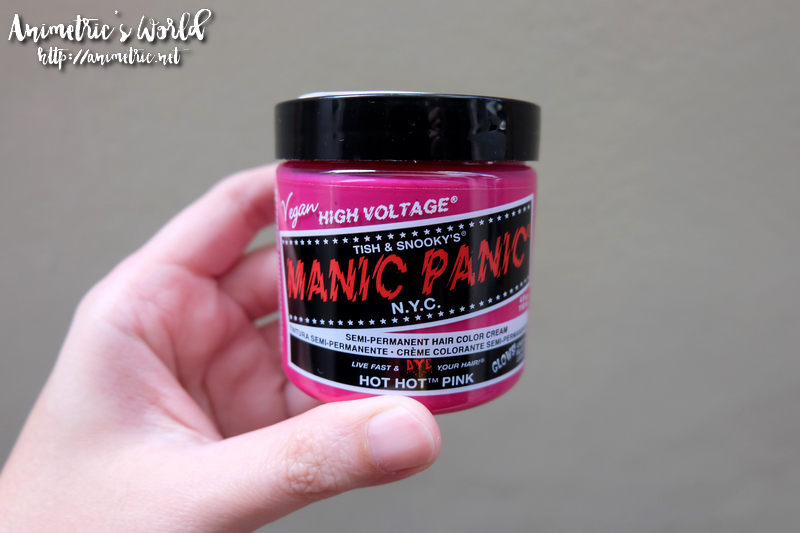 I ordered this jar of Manic Panic in Hot Hot Pink (P650) from @hotfindsmanila on Shopee. I had a birthday discount then which took P150 off the retail price. I ended up paying only P500 and I got free shipping too! Since this is a vegan hair color cream so I didn't really expect much. After all, can something that's peroxide-free really have dramatic results?
The cream is quite thick in terms of consistency. It stains too. I used a pair of gloves to handle the product and color my hair.
The way you color your hair with Manic Panic is you shampoo first. They recommend a deep cleansing shampoo to rid your hair of all the grime and oil so the color can really be absorbed. I used Celeteque Clarifying Shampoo. After shampooing, I detangled my hair with a wide-toothed comb. Then I applied the coloring cream. I was surprised there was no strong chemical scent and it actually didn't sting when it touched my skin.
As per the instructions, you need to cover your hair with a shower cap after applying the cream. Since my hair is thick, I used up like 90% of the jar's contents. You then leave it on for at least 30 minutes… longer if you want more vibrant results. I left it on for 2 hours lol. Manic Panic is a conditioning treatment so you don't have to worry about leaving it on for too long. I noticed my hair became very smooth and easy to comb through once I applied it. After 2 hours, I rinsed my hair until the water ran clear.
So here's what my hair looked like after I dried it. Whoa, so vibrant! My hair is unbleached at that. So if you're blonde or platinum blonde you will probably end up with the Hot Hot Pink shade you see in the jar.
Here's how my hair looks indoors under artificial light. I'm so amazed!
This is how my hair looks like outdoors. I love it!
What I like about Manic Panic:
It's vegan. There are actually no chemical fumes! Even pregnant women can use it as per their official website.
It doesn't just color, it's a conditioning treatment that makes the hair soft. My hair was super easy to comb after applying this.
Their darker colors cover grey hair. The shade I got, Hot Hot Pink, certainly did.
Certain colors including this one, Hot Hot Pink, show up nicely on hair that hasn't been bleached or pre-lightened.
There are a lot of interesting shades available. I actually got confused which one to get.
It's semi-permanent so it washes off with each shampoo. That's good because you can be adventurous but you don't have to commit for a long time.
Downside? It stains. I can't remove product droplet stains from my sink. It also bleeds so don't wear your good clothes when your hair is wet. There is also no kit so you need to provide your own gloves, cape, and shower cap.
Manic Panic is available from numerous sellers on Shopee at varying prices. I got mine for P650.
Like this post? Subscribe to this blog by clicking HERE.
Let's stay connected: