I flew to Malaysia for Julie's Biscuits' Factory Tour around 3 weeks ago. Now I'd love to tell you all about it, but we're still ironing out a few details for the Julie's Biscuits giveaway I'll be holding. What I'll do is tell you about the rest of the trip. 🙂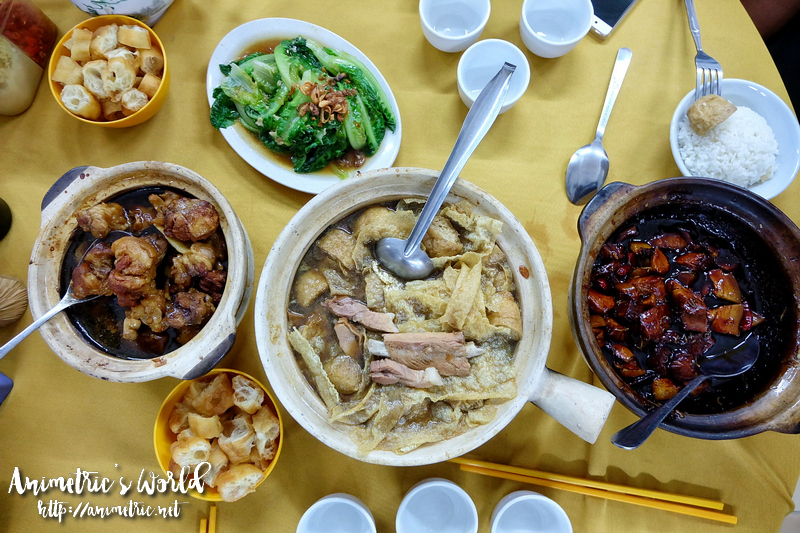 We arrived in Malaysia on a Thursday evening. Our flight via Malaysia Airlines was delayed for almost 4 hours so we landed past dinnertime. I admit I was iffy when I heard we'd be flying via Malaysia Airlines. But I thought hey if it's your time to go, it wouldn't really make a difference. I made it to Malaysia and back in one piece didn't I? Lol. Anyways, we only had time for dinner on our first night and wow, what a spread it was! We had maybe 4 kinds of Bak Kut Teh? They're not all in the photo above but this was definitely one of the best meals I had in Malaysia. After dinner we went straight to Holiday Inn Melaka to retire for the night, I'll be posting a separate hotel review.
We spent our second day in Malaysia in Julie's Biscuits' Factory, but we had time to take in the sights of Malacca on the third day. We made our way to St. Paul's Hill and we climbed all the way up to the top on what seemed like endless flights of stairs. If you're planning to climb the hill to check out St. Paul's Church, make sure you're wearing comfortable shoes.
This is what's on top of St. Paul's Hill — St. Paul's Church! Yes, it's these ruins.
There's a statue of St. Francis Xavier in front of St. Paul's Church.
You can get a good view of the city of Malacca from the top of the hill.
That's the Tan Beng Siew Clock Tower behind me. Notice the windmill? This area is called the Stadthuys and it's Dutch in origin.
Christ Church, built in 1753, is an example of Dutch Architecture.
This is Queen Victoria's Fountain located in front of Christ Church. It's more than a hundred years old but it's still fully functional!
We crossed this bridge to go to Jonker Street. Jonker Street is a street food paradise, although I was too busy catching Pokemon to eat wahahaha. We went to San Shu Gong to do a bit of shopping. I was unable to take pics because we had very little time to shop. I bought the best instant teh tarik ever from there — San Shu Gong Lao Qian Teh Tarik. It cost around 14RM (around P160+) for a pack of 12. Seriously, someone should bring in this brand to the Philippines. Even their white coffee is the bomb.
We headed towards the Baba Nyonya Heritage Museum after shopping. It's basically a house owned by a Chinese noble family. We were prohibited from taking photos inside but we had this feisty elderly woman who reminded me of Miriam Defensor Santiago as our tour guide. It was very interesting, I actually learned a lot about the origins of the customs and traditions we Chinoys still practice today.
After our museum tour, we stopped by Hoe Kee Chicken Ball Rice for lunch. I could tell it's a really popular place because people were queuing up to eat here. It's open air, so there's no aircon. That's one thing I noticed about Malacca, a lot of the places are al fresco even if it's hot in Malaysia.
If you're in Malacca at night, I highly suggest taking the Melaka River Cruise. The night lights lend a different kind of beauty to the surrounding areas. Plus, it's cooler at night. Try to figure out where the front of the boat is (I didn't) and sit there (not on the sides like I did) so you can get an unobstructed view of the sights.
We actually crossed the same bridge to go to Jonker Street at night. It looks a lot different don't you think?
Although my stay in Malacca was brief, I loved every minute of it. The city has this old world charm and chill vibe that I find relaxing. It's sort of like Malaysia's version of Intramuros in Manila. Food is good and it's really great for pasalubong shopping because they have unique food products and novelty items.
Like this post? Subscribe to this blog by clicking HERE.
Let's stay connected: