Last week, I made up three people in make-up class. A teenage boy, an elderly woman, and a teenage girl.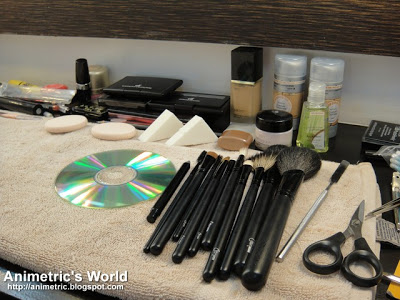 I won't even bother telling you about the boy. Making up a guy is BORING. All you do is apply foundation (to even out the skin tone), concealer (to hide flaws), and contouring stuff (to shape the face). So basically what you have to do is give him an even sun-kissed look and define his facial angles.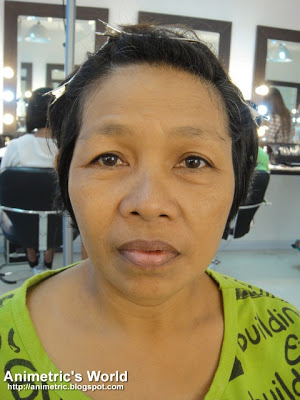 Making up an elderly woman however is an entirely different story. You have so many challenges to overcome: droopy eyes, lines, wrinkles, and skin that's not as firm as we'd like. When my model took a seat, I wasn't really sure if I could make a difference.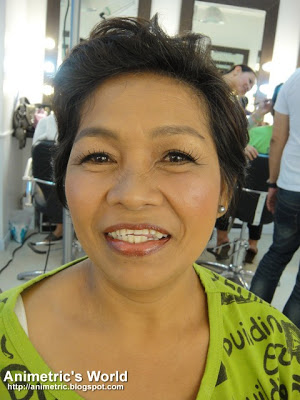 I applied what Sir Jeave (our instructor) taught us during the lecture. I started by shaving stray hairs on her brow area.
Here are some tips when making up elderly women:
Use warm colors to give her well, warmth and a lively glow.
Use creamy foundation as mature skin is usually drier than normal.
Avoid pink toned blush as it will never look age-appropriate. Peach is the way to go for this age group.
Stick to neutral warm tones when doing the eyes (actually cheeks and lips too).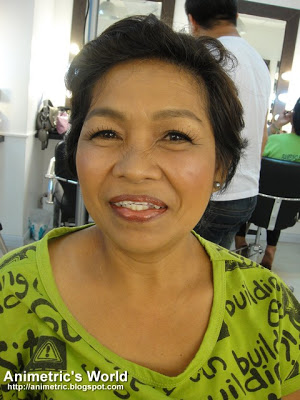 The goal here is to make her look elegant. To achieve this transformation I used:
Graftobian Foundation Warm Palette
Sanford Eyebrow Pencil
Elf Natural Eyeshadow Palette (used brown, bronze, and gold)
Maybelline The Magnum VolumExpress Waterproof Mascara
Max Factor Miracle Touch Creamy Blush in Soft Murano
Elf Contouring Blush and Bronzing Powder in Blushed/Bronzed
Avon Ultra Color Rich Mega Impact Lipstick in Brilliant Brown
False eyelashes and Nichido Eyelash Adhesive
I guess I did a good job because my model was sooo happy with the results that she could not stop smiling afterwards. I wanted to take a serious photo but really, she could not help but grin from ear to ear. She even told me that when she goes home, the people there may just stop calling her lola (grandmother in Filipino) and start referring to her as mama.
It felt great to make someone so happy!

Like this post? Subscribe to this blog by clicking HERE.Become a Facebook Fan for more updates from Animetric's World.