I knew most places would be closed on Thursday and Friday. That means I'd be stuck in the kitchen for most part of the day, cooking lunch and dinner. I decided we had to eat out on Wednesday lol. Hubby had to go out of town on an errand so it was just me and the kids. It was the perfect time to try this new app discovery of mine… BigDish. You can download it for Apple or Android.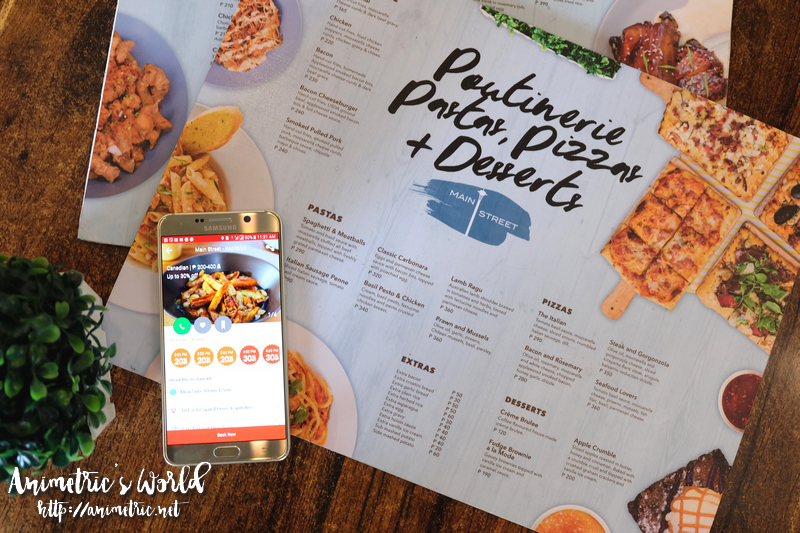 So I downloaded and installed the BigDish app on my phone. Then I looked for a restaurant that wasn't too far from our place that the kids were interested in trying out.
I was expecting most people to be going out of town via North Diversion Road or South Super Highway so I was pretty confident that middle areas like Pasig or Mandaluyong would be traffic-free. We decided to reserve seats for 3 somewhere in Kapitolyo.
We came across Main Street Restaurant. They serve Canadian food. What's more, if we book via BigDish and arrive by 11am, we'd get 20% off our bill. So I booked the 3 of us for lunch at Main Street Restaurant via BigDish last Ash Wednesday.
As soon as we got to Main Street Restaurant, I told the waiters I reserved a table for 3 via BigDish. They immediately acknowledged I was getting 20% off.
We had Bacon Poutine (P230) to start us off. Poutine is a fancy term for french fries and gravy. It's probably the only Canadian dish I know. Main Street's Bacon Poutine consisted of hand-cut fries, homemade Applewood smoked bacon bits, mozzarella cheese bits, and beef-based gravy. Yum! It was actually very good. I think we finished it in less than 5 minutes, lol. The gravy was perfect — flavorful, rich, and wonderfully not pasty.
Then we had Buttermilk Fried Chicken (P290). Three luscious-looking pieces of chicken are served with garlic cream sauce and either herbed rice or fries. Since we already had poutine, we opted for rice. Wow! This is seriously good chicken. It's super crunchy, just the way I like it. It also doesn't cost an arm and a leg, unlike Kettle's overpriced Buttermilk Fried Chicken which costs almost P600 for 3 pieces. I've tried the fabled P600 chicken once and suffice to say I'm never ordering it again.
We also tried the Miso Glazed Salmon (P390). Pan-seared salmon fillet is glazed with a sweet-savory miso mustard sauce. It's served with steamed broccoli and shallot chive fried rice. We split the salmon into 3 and totally loved eating it with the rice and veggies.
We shared a Bacon and Rosemary Pizza (P290) as well. A freshly baked flatbread is topped with olive oil, rosemary, mozzarella and white cheese, applewood smoked bacon, and honey garlic drizzle. Whoa, the combination of flavors is pretty awesome. We were quite full at this point though. We each just had a slice and just took home the remaining pizza.
My kids are always hankering for dessert so we made room for Apple Crumble (P200). Sliced apples roasted in butter, honey, cinnamon are topped with a crumble crust, crushed graham, and a scoop of vanilla ice cream. My son and I loved this dessert.
My daughter the chocoholic wanted the Fudge Brownie Ala Mode (P190). A fudgy, chewy brownie is topped with a scoop of vanilla ice cream and the yummiest caramel sauce.
The kids and I really enjoyed our leisurely lunch at Main Street Restaurant. Food is good and prices are reasonable. The place had excellent air-conditioning too. We were cool and comfortable even if it was sweltering hot outside. Another plus point is the parking. Most places in Kapitolyo have parking slots for 2 cars max. Main Street has enough space for maybe 5 cars out front. That's better than almost everyone else in the vicinity. I also appreciated the fact that the staff was familiar with the BigDish app. I hate it when I try to avail of something in an establishment and then get nothing but blank stares.
I'll definitely use BigDish to make reservations again when we dine out next time. If you'd like to try out Main Street, I suggest booking via BigDish for discounts of up to 30% off (yes, Main Street has a timeslot with 30% discount!). Register for a free BigDish account HERE.
Main Street Restaurant
10 East Capitol Drive, Kapitolyo, Pasig City
0995-1541136
Like this post? Subscribe to this blog by clicking HERE.
Let's stay connected: