Magnum Infinity. Just when I thought I was over the Magnum craze, out comes Magnum Infinity. I was actually skeptical when I was told that it's Belgian dark chocolate coated chocolate ice cream. Um… not a fan of chocolate on chocolate.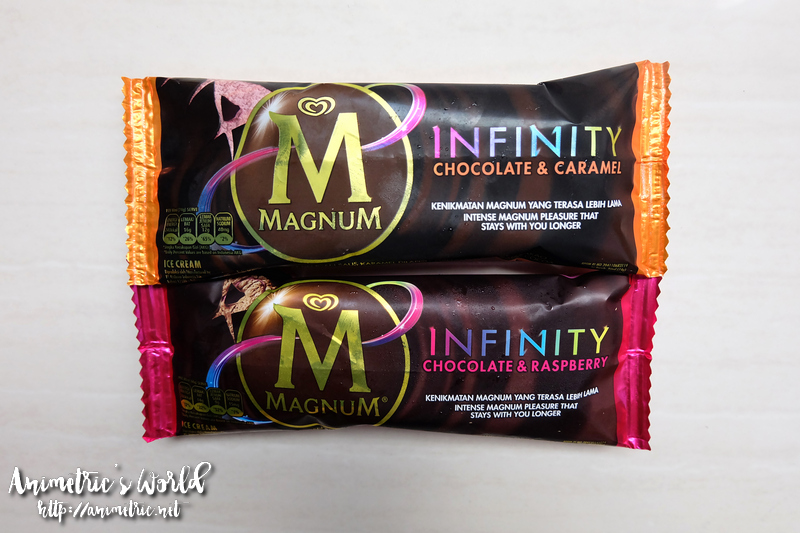 Anyhow the brightly color-coded packaging is what I first noticed about Magnum Infinity. It comes in two flavors: Chocolate & Caramel and Chocolate & Raspberry — definitely reminiscent of those boxed chocolate truffles that come with a variety of fillings.
Since I knew it was chocolate on chocolate, I wasn't too excited to try it. Well, I have heard good things about it so I was still wondering how it'd work out after I had opened a pack.
OMG. I honestly was not expecting to like Chocolate & Raspberry but wow. Mind blown. It's so elegant in terms of taste. The flavor profile reminds me of red wine-filled chocolate truffles. It's surprisingly refreshing.
The bittersweet Belgian dark chocolate, milky chocolate ice cream, and tangy raspberry ice cream all come together to create such an intensely refreshing taste experience. Don't take my word for it, go out there and get a bar! Take note that I normally don't like chocolate ice cream.
Then I tried Chocolate & Caramel. I was expecting it to be super sweet like Magnum Gold but it's actually not. It's just right.
I don't know how to describe it but the words crunchy honeyed chocolate ice cream come to mind. It's also good, but personally I prefer Chocolate & Raspberry.
Damn I've been eating one bar a day (if you know me and know that I'm not an ice cream person that's A LOT!!!), that's just how irresistible Magnum Infinity is!
Magnum Infinity is available at all leading supermarkets, drugstores, and convenience stores nationwide at P55 per bar.
Like this post? Subscribe to this blog by clicking HERE.
Let's stay connected: