I received a mysterious invitation emblazoned with an "M" logo a couple of weeks back. All I knew was that it had something to do with Belgian chocolate. I had absolutely no idea what was in store for me. It turned out to be the arrival of Magnum Ice Cream Bar to the Philippines!
Anyhow, I followed instructions and went to Enderun Colleges at McKinley hill last Feb. 28, 2012. A grandiose luncheon set-up awaited as I made my way to my seat. But one thing was missing from the menu — dessert!
After lunch, the gates to what seemed like a secret garden of delights opened and we were asked to find our way through the maze-like hedges.
Chocolate sculptures adorned the corners.
I quite liked this Fabergé egg fashioned from milk and white chocolate.
Enderun's pastry chef Andreas Gillar gave a short talk about Belgian chocolate accompanied by a short demo. Basically he assured us that what we were about to bite into was good quality Belgian chocolate.
Magnum Ice Cream Bar's brand ambassadors were also unveiled: Raymond Gutierrez, Solenn Heussaff, Liz Uy, and Erwan Heussaff. Tessa Prieto-Valdes is also one but she couldn't stay for long.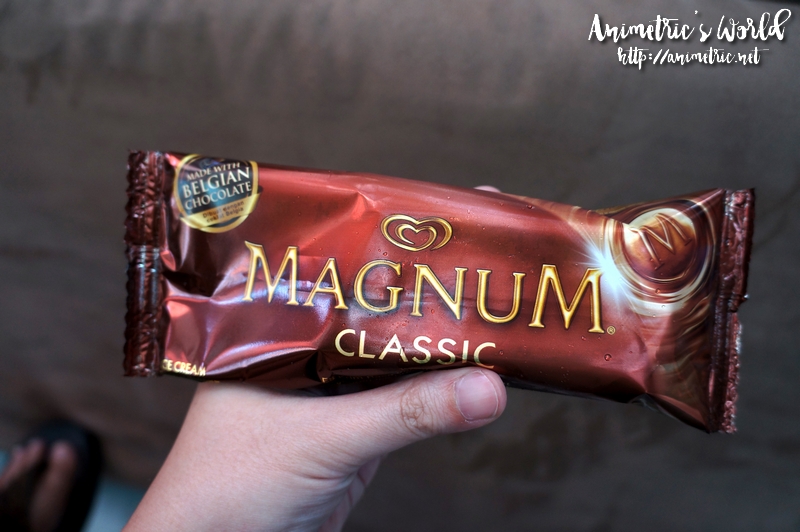 Finally, dessert was served! All three variants of the Magnum Ice Cream Bar (Classic, Almond, and Chocolate Truffle) were served on silver trays. I picked Classic, which is plain Belgian chocolate with vanilla ice cream.
Wow, it's pretty hefty!
It's love at first bite and I don't even like ice cream! The smooth and rich Belgian chocolate coating gives an exclamatory crack the moment you take that first bite. Later on (like one week later) I would go on to try Almond (it's got almond pieces embedded on the chocolate coating) and decide that Magnum Almond Ice Cream Bar is the variant I like best! <3
Initially, Magnum Ice Cream Bars will be available in three variants: Almond, Classic, and Truffle. Suggested Retail Price is set at an affordable P50 per bar (it costs P60 if you buy it in a convenience store). Magnum Ice Cream Bars are available at leading supermarkets and convenience stores nationwide.
I heard it's already out of stock in a lot of places. I'm not surprised since it costs a lot more per bar in countries like Hong Kong and Singapore. 🙂
Like this post? Subscribe to this blog by clicking HERE.
Let's stay connected: