I had my first reunion of the season a little over a week ago. My elementary classmates and I had an early get together. Since most of us hail from Quezon City, we decided to go for the Luxent Hotel Dinner Buffet. Ironically, even though this is actually one of the closest hotels to me in terms of distance, I've never tried their buffet. It was a weeknight so the buffet rate was P1,088 per head. Fridays and weekends are P1,388 per head.
You can find the buffet in the Garden Cafe located at the ground floor. I liked the bright, spacious, yet cozy setup. It's all decked out for Christmas.
They have a modest selection of Japanese food — Tempura, Yakisoba, Chicken Teriyaki, Kani Salad, Miso Soup, plus an assortment of Sushi and Sashimi.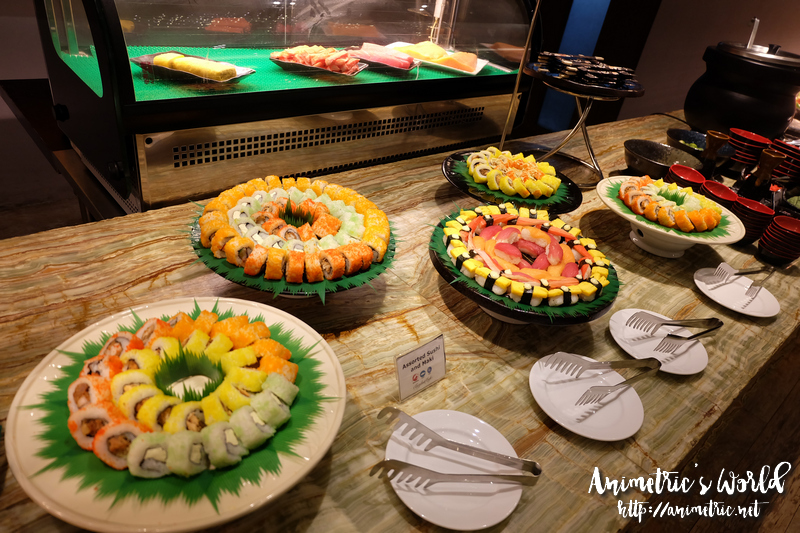 The salmon sashimi was very popular with our group. 🙂
They have Lechon too!
There is also rare Roast Beef which you can have grilled to your preferred doneness.
Salted Egg Salmon Fillet with Tzatziki was one of their more unique dishes.
This is Braised Beef Ribs with Bacon Mushrooms.
Whoa, Chilli Crab!
In case you're in the mood to DIY, there's a Mongolian Station where you can whip up your own rice dish. There's a variety of meat, seafood, vegetables, and condiments so the possibilities are endless.
There's dimsum.
They have a Pasta Station.
There's a Salad Bar too.
Bottomless drinks include coffee, hot tea, juice, and iced tea.
Then there's the Dessert Station. They have a variety of cakes, pastries, fresh fruits, DIY halo-halo, and a chocolate fountain.
I liked the Red Velvet Cake.
There's an Ice Cream Scooping Station too.
It was a chill evening with friends. The Luxent Hotel Garden Cafe is perfect for reunions. The setup is cozy, intimate, and relaxed. The place is immaculately clean too. Food is of good quality. Though the selection is not as wide as places like Vikings, there is a good variety of dishes so there's something for everyone. Service is friendly and efficient too. It's definitely a nice venue for reunions and intimate gatherings.
Garden Cafe
G/F Luxent Hotel
Timog Ave., Quezon City
863-7777
Like this post? Subscribe to this blog by clicking HERE.
Let's stay connected: