Even if Ortigas is quite near us, we rarely go beyond the mall area. That said, it was only recently that I finally got to try out the much-talked-about Lung Hin Restaurant at Marco Polo Ortigas. Well technically this is my second time at the hotel because the Bioderma event was held there. Anyhow it was my uncle's 50th birthday and he had an intimate party at Lung Hin Restaurant in Marco Polo Ortigas. I don't know how much this set menu cost but I'm putting prices on the dishes based on Lung Hin's a la carte menu. Dishes with no prices are not in the a la carte menu I checked.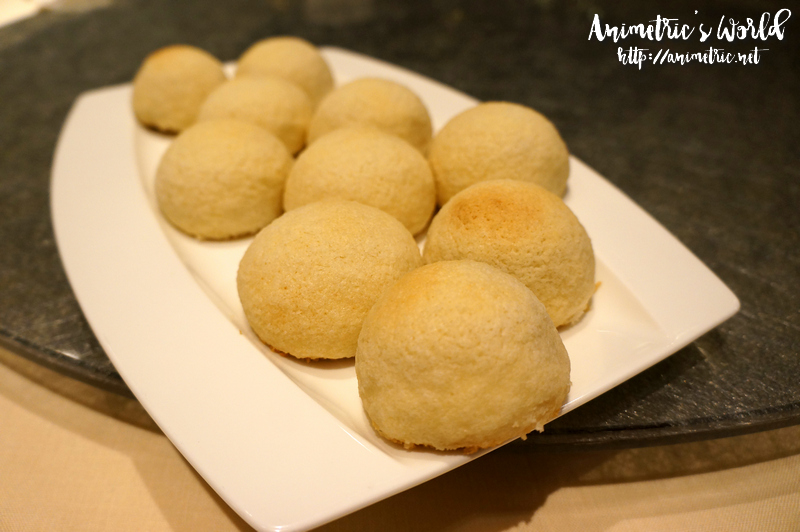 Baked Barbecue Pork Buns (P220 a la carte)
The first dish out was Baked Barbecue Pork Buns. They kinda look like Tim Ho Wan's but that's where the similarity ends. I don't know how many pieces you get from one a la carte order.

The Lung Hin Restaurant pork buns are too fatty for my taste. I prefer lean meat for filling but the pork used in these buns seem mostly comprised of fat. I must give my vote to Tim Ho Wan for Barbecue Pork Buns.
Birthday E-fu Noodles

No Chinese birthday celebration is complete without Birthday E-fu Noodles! These tasted like the usual ones I've had in other Chinese restos.
Steamed Crab Claw in Egg White Bed (P680 a la carte)
This is where things start to get more exciting — Steamed Crab Claw in Egg White Bed! There were actually flecks of edible gold on the big crab claw. I love that the hard crab shell had already already been removed! The egg white bed was smooth, savory, and custard-like. Yummy!
Peking Duck 2 Ways (P3,600 a la carte)
Yahooo… our favorite Peking Duck way of serving — crispy skin and juicy meat with sate sauce and celery wrapped in a chewy soft tortilla-like wrapper! This didn't disappoint. I seem to have forgotten to snap a photo of the second way though (duck minced with lettuce).
Sauteed Diced Beef with Goose Liver (P680 a la carte)
Incredibly tender and juicy cubes of beef served atop some freshly steamed veggies and well well well… a small siding of Foie Gras! They deglamorized it by calling it Goose Liver but it was actually not just ordinary liver but Foie Gras. Definitely another delicious dish!
Stir Fried Squid with Mashed Salted Egg (P380 a la carte)
I love how the salted egg renders a more natural and unique flavor to the crunchy squid — level up calamari!
Whole Spareribs (P380)
This is basically Hong Ma (slow-cooked pork in Chinese), which is usually served with mantou or silver bread. I love how tender the savory-sweet the meat is.
Mantou for the Whole Spareribs
And yes, served with my favorite chewy white bread… mantou.
Prawns in XO Sauce with Vegetables (P780)
Lotus Fried Rice
This kinda reminded me of machang but not exactly.
This is how the rice looks like when out of its lotus wrapping.
Chilled Mango Pudding (P250)

Oh my, this Chilled Mango Pudding is really really good. Smooth, creamy, and absolutely dreamy. It has just the right combination of sweet, tart, and milky. One of my faves that evening! This is how you do mango pudding.

Thanks to my uncle for treating us all to a delicious dinner at Lung Hin Restaurant! It was a great evening for catching up with family (I think our entire group occupied 4 tables). Food was good and I liked Lung Hin's ambience — elegant without being stiff. I found our lauriat dinner quite relaxing.
Lung Hin Restaurant
44/F Marco Polo Ortigas
Sapphire Road, Pasig City
720-7777
Like this post? Subscribe to this blog by clicking HERE.
Let's stay connected: