Chinese New Year is one of the occasions when we all go out for dinner as one big extended happy family. Every year we have it at a Chinese restaurant. We would indulge in a full blown Chinese lauriat dinner with anywhere from 6 to 8 courses.
This year, hubby and I tried out the Lung Hin Chinese New Year at Marco Polo Ortigas. Dubbed as the Yin and Yang menus, there are two different sets to choose from. Chef Raymond Yeung handpicked dishes from both menus for us to try last week.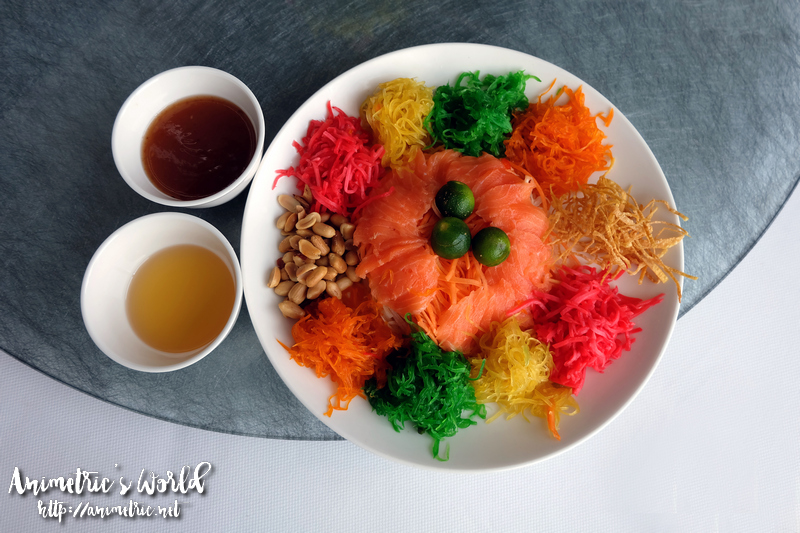 Prosperity Toss with Salmon Fish "Yu Sheng" was our first course. It's a salad with several kinds of pickled veggies, peanuts, and salmon. They give you gigantic chopsticks so you can literally toss everything. It is said that the higher you toss the veggies and fish, the luckier and the more prosperous you will be. The messier, the better.
Okay so this is the aftermath of our salad toss. This isn't my first time to have Yu Sheng but I noticed that Lung Hin's version is quite heavy on the pickles. Personally I don't mind but there are some who don't like their food too tart. Both the Yin and Yang menus start with this dish.
Next up is soup. We had Braised Pork Tongue Soup with Dried Oyster and Black Moss (Yin Menu). Not a fan of tongue so I just took sips of the broth.
We also tried Stir-Fried Prawn with Asparagus and Red Wine Pear (Yin Menu). I quite enjoyed the big juicy prawn, crunchy asparagus, and pears with wine. If you opt for the Yang menu, you'd be having Sauteed Shrimp and Pacific Clam with Vegetables in Oyster Sauce.
Finally a meat dish — Braised Pork Knuckle with Black Moss and Vegetables (Yin Menu). I'd describe it as patatim done right. The sauce is just the right consistency and taste… savory yet sweet but not overly so. The pork is really tender too.
Deep Fried Hong Kong Pigeon (Yang Menu) was served as well. I don't eat pigeon so I skipped this. The skin looked really crunchy though. The Yin menu equivalent is the Lung Hin Braised Sea Cucumber and Assorted Seafood Hot Pot.
Both Yin and Yang menus get the Pan-fried Coconut and Brown Sugar Sticky Rice Cake Combination for dessert. I think I had two of these chewy yummy morsels. They're really good! Definitely a great way to cap off a Lung Hin Chinese New Year celebration.
The Yin Menu costs P26,800++ while the Yang Menu costs P29,800++ for 10 persons.
You can enjoy the Lung Hin Chinese New Year Menus until January 31, 2016. Glutinous rice cakes (tikoy) are also available starting at P988.
Lung Hin Restaurant
44/F Marco Polo Ortigas
Sapphire Road, Pasig City
720-7777
Like this post? Subscribe to this blog by clicking HERE.
Let's stay connected: