A couple of Sundays ago, The Club (our foodie friends group) decided to go Japanese. We originally planned to go to Wabi Sabi Noodle House only to find out that they're closed on Sundays. Thus we proceeded to Hana in Little Tokyo instead.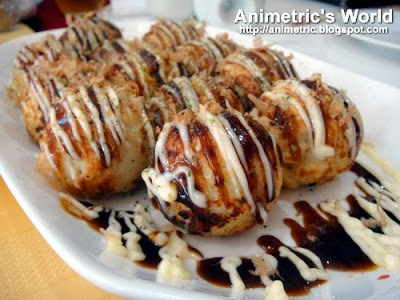 A visit to Hana is not complete without ordering their authentic
Takoyaki
(octopus balls). One order consists of six pieces and costs P120, the photo above shows two orders combined. It's really yummy, each ball is made of pancake-like batter filled with octopus chunks and a little bit of pickled ginger. It's topped with Japanese mayonnaise, bonito flakes, and brown sauce that is similar (if not the same as) to
tonkatsu
sauce.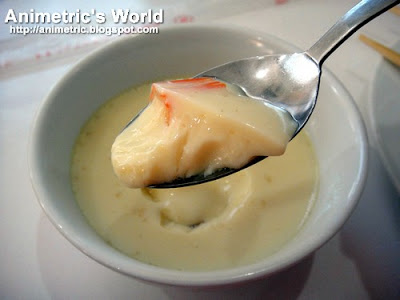 I ordered one of Hana's lunch specials. For P270, I was getting Miso Soup, Chawan Mushi (pictured above), Wakame Soba, Salmon Onigiri, and dessert. I could also have free rice if I wanted to. Chawan Mushi is a savory Japanese egg custard dish that is usually filled with a shrimp, small pieces of pork, a bit of mushroom… it's really smooth, flavorful, and delicious. It's served warm too.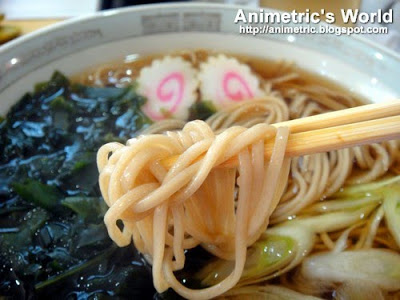 Then came my Wakame Soba. Wakame is a type of seaweed, it's those dark green leaves floating on the left side of my bowl in the photo above. I liked the nice, clean, and slightly sweet taste of the soup. It tasted very natural. The noodles were cooked perfectly al dente.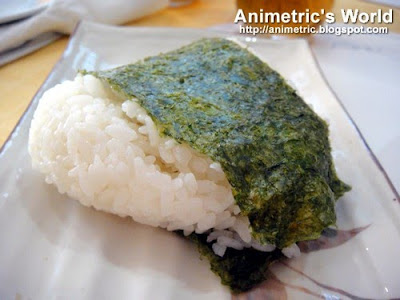 I opted not to avail of the free rice because my lunch special included Salmon Onigiri (pictured above). Onigiri is a triangular Japanese rice ball, usually wrapped in seaweed and filled with different food items. This one had salmon flakes inside it. I love onigiri, I always buy different kinds when I'm in Japan. Onigiri is so common there you can get it from any convenience store and they always taste good. Hana's Salmon Onigiri is a bit on the bland side though…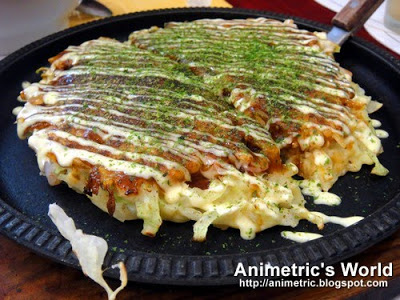 We also ordered an okonomiyaki from Kagura, the restaurant next door. That's the great part about dining at Little Tokyo, you can cross order from other restos and they'll bring the food to whichever place you're dining in. Okonomiyaki is a savory Japanese pancake made with batter, shredded cabbage, and meats and/or seafood of your choice. Like the takoyaki, it is topped with Japanese mayonnaise and tonkatsu-like sauce. We had Okonomiyaki with pork, squid, and shrimp (P310, pictured above). It's really good, just like the ones I've had in Tokyo and Osaka.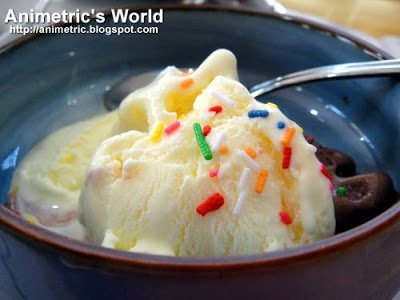 Guess what dessert came with my lunch special?
Ice cream with candy sprinkles!
I think my lunch special was pretty good and very reasonably priced at P270. I have a small problem with Hana though. Their air-conditioning sucks in the most major way. I felt sticky and sweaty the whole time as we were having lunch. I hope they have it fixed.
Hana Restaurant
Little Tokyo Compound
Don Chino Roces Ave., Makati City
339-3855
Like this post? Subscribe to this blog by clicking
HERE
.
Become a
Facebook Fan
for more updates from Animetric's World.