I'm 41… then someone said Fotona 4D Facelift. I'm like… what's that??? Sounds scary. Anyway, I think I've had a standing invitation to experience Dr. Kaycee Reyes' innovative skin treatments at her clinic, Luminisce Skin and Laser Clinic, since last year.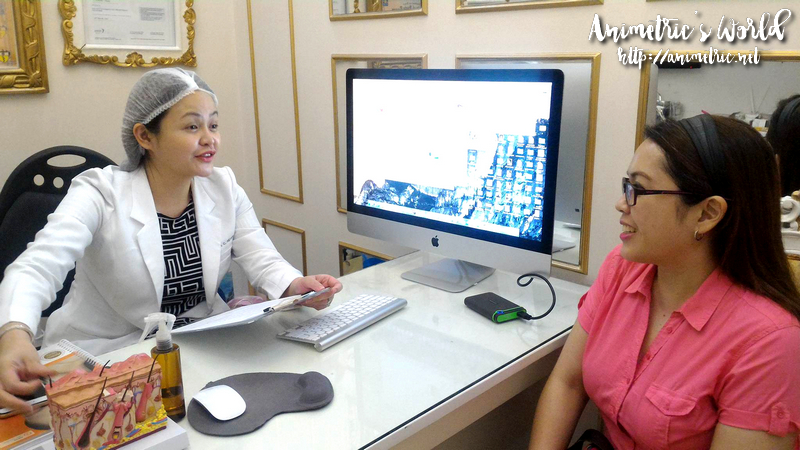 It's only this year that I've finally decided to take the plunge. I'm not getting any younger so I probably need all the help I can get. I made my way to Luminisce which is located at the second floor of the Mercury Drug building along 32nd Street in BGC. After a brief consultation with Dr. Kaycee Reyes, she recommended that I go for a Luxury Facial, Thermalift, and Fotona 4D Facelift.
I was ushered into a treatment room after the consultation.
Luminisce's Luxury Facial (P2,500 per session) is all about deep cleaning your pores to remove bacteria-causing acne, trapped dirt, and excess oil. I told them not to do any pricking because I find pricking aggravates whatever condition I might have. After the cleaning, your face is massaged to help you relax.
Then skin-nourishing vitamins are infused into the skin via sonophoresis. Ultrasound waves seep nutrients into the skin, removing blackheads and whiteheads along the way.
Electric currents safely pass through the skin using a special machine to lift and revitalize.
Finally, my favorite part! An oxygenating machine releases cool pressurized oxygen into the skin to hydrate and refresh. I love how the cool air seems to blast away all my skin concerns lol. My face felt so clean and fresh afterwards! I normally don't like facials but I really enjoyed Luminisce's Luxury Facial.
After the Luxury Facial, they proceeded to do Thermalift. Thermalift is actually part of Luminisce's Age-Defying Program. It lifts sagging skin, tightens pores, and even heals acne using radio frequency pulses that transfers heat between skin layers. This transferred heat encourages collagen formation which results in firmer and tighter skin over time.
However, what I was really there for was the Fotona 4D Facelift. It's a laser treatment so they had to cover my eyes with protective goggles. I couldn't really take any more photos after but I'd like to share with you the 4D Fotona Facelift video below because that is pretty much what I underwent. Tip: Remove all your eye makeup because the goggles are kind of tight and I was wearing waterproof mascara that day so my lashes felt icky afterwards.
The
Fotona 4D Facelift
is a non-invasive and non-surgical laser procedure which can instantly lift the face. It's unique because it's done intra-orally, meaning the laser is administered inside your mouth to stimulate the production of collagen from inside out. There is no downtime. It's painless although I felt a few pinpricks here and there inside my mouth because of the laser, nothing major. I walked out of the clinic looking and feeling normal save for my slightly reddish skin which normalized after a day or so. I was advised not to eat sweets and not to drink or wet my face with hot water for 24 hours.
I was told that I'd see and feel the full effects of the Fotona 4D Facelift 2 weeks after the treatment and so I took this no makeup photo 12 days after I had it. I told Dr. Kaycee that my problem is really my undereye circles and she told me she'd have to inject hyaluronic acid-based fillers at my undereye area to plump up the skin and make the dark circles disappear. I'm scared of injections and so I didn't go for it the time I was there.
Considering I don't really like facials, would I go back to Luminisce? To be honest their Luxury Facial is probably the facial I enjoyed the most out of all that I've tried so yes, I think I would go back to Luminisce. I'm seriously thinking about the undereye circle solution Dr. Kaycee told me about, haha!
For more information about the treatments at Luminisce Skin and Laser Clinic, log on to http://luminisce.com/ or check out Luminisce on Facebook. To inquire about the Luxury Facial, Thermalift, or 4D Fotona Facelift call 511-8500. Luminisce is located on the second floor of the Mercury Drug building on 32nd Street in BGC.
Like this post? Subscribe to this blog by clicking HERE.
Let's stay connected: