I'm all for delicious and reasonably priced food, especially if it's located in Quezon City. That means it's going to be a short drive from where I live and work. That and QC is kind of a central location for most of my friends and I. We usually meet up and dine in the Tomas Morato area. This is where Lola Cafe + Bar comes in.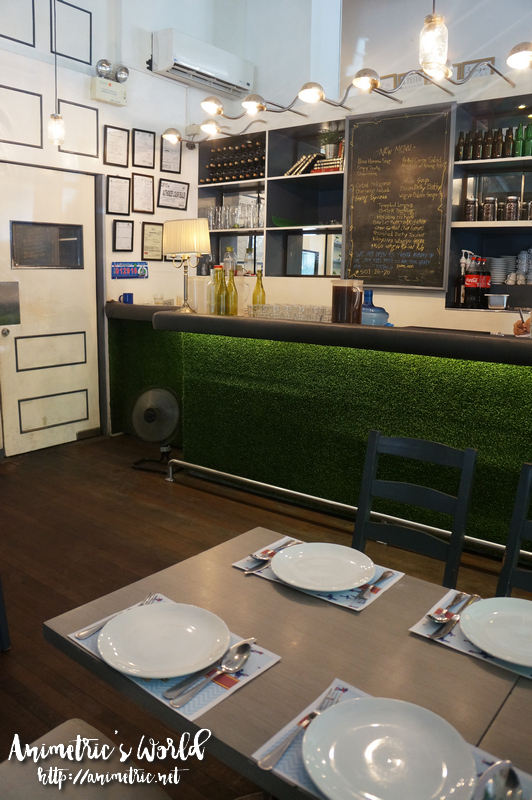 Lola Cafe + Bar is another hidden gem. I say hidden because it's not along Tomas Morato — it's found in one of the side streets. I was invited to sample Lola Cafe's new menu offerings along with several other blogger friends. Wow, I haven't even tried the old menu (I didn't know about this place's existence is why) and I'm going straight for the new stuff lol.
So we started with an appetizer, classified under Small Plates in the Lola Cafe menu… Cauliflower Fritos (P230). You know I actually don't eat cauliflower but I gave this a try and I loved it! They battered and fried the cauliflower and coated it with a sweet soy glaze, sesame seeds, and lime. Yum! I'll never look at cauliflowers the same way again.
Another starter followed, the Chicken Liver Tostada (P195). Melba toast is paired with creamy chicken liver pate and sweet glazed bacon crisp. Gone too soon, haha — in other words, delicious!
Each appetizer was more indulgent than the last and we were wowed by the Bone Marrow Sisig (P275). Grilled pork jowl, roasted bone marrow, garlic crumble, and kamias jam make up this super rich, sinful, but irresistible dish. Oh why must everything good to eat be so fattening??? XD
Here's something on the healthier side of the spectrum — Tinapa Omelette (P235). This is only available for merienda though, from 2pm to 6pm. It's made with organic eggs cooked with smoked fish, mixed greens, bonito flakes, and lola relish, served with grilled bread. Tasty and light, it's great if you're watching your food intake.
This is Lola Cafe's take on the classic Pinoy noodle soup dish — the Bacon Belly Batchoy (P320). I loved the flavorful garlic broth.
We also got to try Alugbati & Kesong Puti Salad (P200 Solo / P310 Share).
What really impressed me at Lola Cafe were the rice dishes. First one I got to try was the 1/4 Chicken Confit with Tinola Rice (P280). Tender chicken cooked in ginger with green papaya and lemongrass rice pilaf make up this dish. I felt like I was eating rice and sipping Tinola at the same time. It's actually pretty amazing.
But this Miso Salmon and Sinigang Rice (P320) is the real tastebud shocker. OMG. I didn't think it was possible to imbibe the signature tartness of Sinigang in rice and serve it as a one bowl perfect meal. If you visit Lola Cafe you simply MUST order one of the uniquely Filipino inspired rice dishes.
Here's a different way of serving boneless bangus… Coconut Boneless Bangus (P430). Crispy fried fish is topped with creamy coconut and leek sauce and crunchy garlic bits. OMG. It's such a perfect viand I swear… you should totally have it with garlic rice.
For dessert, we had Strawberries and Cream Pavlova (P150). Meringue, strawberry preserves, and coconut tarragon mousse make up this decadent treat.
Lastly we got to try the Banoffee Pie (P170). Banana custard cream, peanut butter, and a buttery graham crust make this dessert totally to die for.
I'm so glad I had a lot of people to share all this food with lol, because I still want to lose weight even if it seems impossible to do so. It's hard not to overindulge when you're presented with one scrumptious creation after another. All in all, Lola Cafe is a cozy, homey, and reasonably priced restaurant with really creative fusion dishes worth trying. They have parking too! A lot of restos in the scout area force you to park on the street. Lola Cafe has a gated lot beside the entrance which can fit several cars. I'll definitely go back to Lola Cafe with my friends for our next dinner out. 😀
Lola Cafe + Bar
99 Scout Lozano St.,
Quezon City
501-2620 / 219-3254
Like this post? Subscribe to this blog by clicking HERE.
Let's stay connected: