One of the staples of a school age child (like mine) is a lunch bag or lunch box. In my daughter's school, even if kids opt to buy lunch from the cafeteria, they need to bring their own food containers and utensils. This is so they don't end up contributing more to the garbage problem by using paper plates, styrofoam packs, plastic utensils, and other disposable things. Good thing there's Lock and Lock Lunch Bags.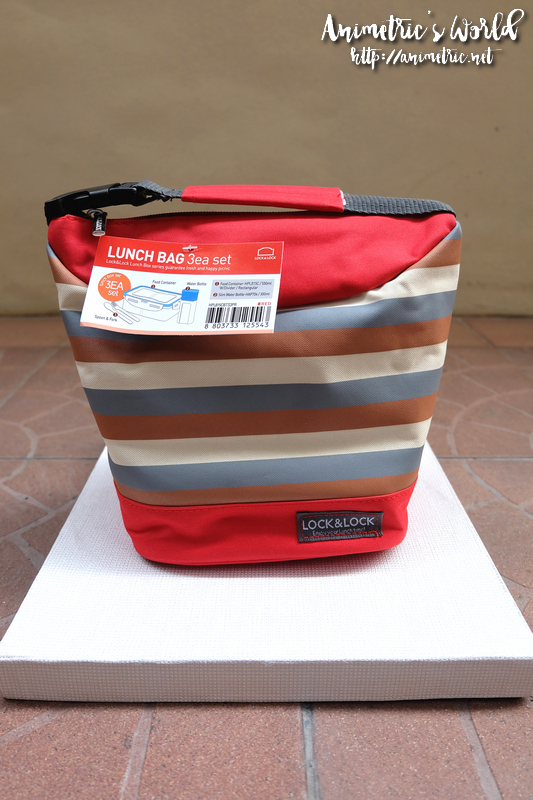 I needed a lightweight and convenient lunch bag that could fit everything my daughter needs to bring and this is it.
We got the Lock and Lock 3EA Set! It retails for P949.75.
The bag's handle detaches from one end so you can easily unzip and zip the bag. You can take out your lunch stuff and put it all back easily.
The Lock and Lock Lunch Bag is insulated so it can keep food and drinks warm or cold.
The Lock and Lock Lunch Bag comes with a stackable airtight food container, a slim water bottle, and utensils. They are all made of BPA free plastic.
The Lock and Lock Aqua Slim Water Bottle can hold 300ml of liquid and has both a screw-on cap and a bigger snap-on cap that can double as a drinking cup.
The Lock and Lock Food Container has two removable compartments and can hold 550ml of food. It's airtight and it locks securely so there's no spillage. You can use this in so many ways.
Personally I've always preferred having the kids bring their own lunch to school. It's not only more economical, it's healthier too since I actually have a say with regards to what they eat. I can make sure that they have a balanced diet every time. It's not easy preparing baon everyday because I have to wake up extra early to make sure everything is done correctly. It's so much more hassle-free to just give the kids money to buy lunch. In the long run though, I know that home-cooked meals will be more beneficial for them so it's worth the extra effort.
Did you know that June is National Pa-Baon Month? Lock and Lock started this advocacy due to the alarming results of the 8th National Nutrition Survey by the FNRI (Food and Nutrition Research Institute). The percentage of obese and underweight children are on the rise and it's partly because of unhealthy diets. According to the survey, the top food items purchased by school children are fast food items, chips, sweets, and sodas.
The Lock and Lock 3EA Set retails for P949.75. I think it's reasonable considering it's already a complete set.
Lock and Lock lunch bags and their complete line of products are available at the following Lock and Lock flagship stores:
Eastwood Mall
Fisher Mall
Megastate Bldg. (along Araneta Ave.)
Shangri-la East Wing
Alabang Town Center
Glorietta 4
BF Paranaque
Like this post? Subscribe to this blog by clicking HERE.
Let's stay connected: