I'll be the first to admit I'm not very adventurous when it comes to fruits. I only eat the usual ones like apples, bananas, mangoes, pineapples, melons, etc. By that I mean I don't care for stuff like santol, lanzones, durian, and so forth. That said, yesterday's Locally Blended Juice Drink launch had something of a Fear Factor element for me. I knew they the juices were made from fruits I had never tried.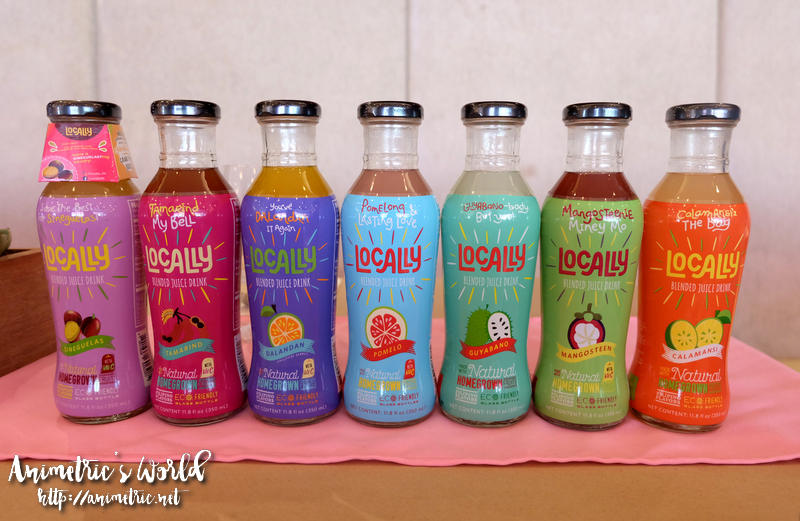 So here's the lineup. Locally Blended Juice Drinks come in the following flavors:
Save the Best for Sineguelast
Tamarind My Bell
You've Dalandan It Again
Pomelong & Lasting Love
Guyabanobody But You
Mangosteenie Miney Mo
Calamansi The Day
Of the fruits enumerated there, I've only tasted Dalandan, Pomelo, and Calamansi — all of which are citrus fruits. I'm partial to citrus fruits. Gotta hand it to the brand… the names are so pun-ny!
Who knew Tamarind (a.k.a. Sampaloc) can be juiced??? What's great about Locally is, the flavors are created from natural homegrown fruits sourced from different parts of the country. For example, the mangosteen is sourced from Davao. Locally not only aims to raise awareness for homegrown local fruits, it also wants to support local farmers.
I tried several flavors, starting with the safest — Calamansi, lol. An hour later, I was having Sineguelas and Tamarind too. Everything's surprisingly good! Light, refreshing, and best served cold.
Locally Blended Juice Drinks are available in 350ml bottles which retail for P30.95 each. They also come in 240ml cans priced at P24.50 each.
For those who love coconut juice, Locally has Merci Buco, made with 100% pure organic coconut water. It comes in 3 variants: Coconut, Coconut-Lychee, and Coconut-Pandan. Each 330ml tetra pack retails for P34.50. There are also 1 liter packs available for P91.95.
Love the Juice Bar they set up at the al fresco area.
Lol I choose to Calamansi The Day!
Locally Blended Juice Drinks are available at 7/11, Robinsons Supermarket, Puregold, SM Supermarket, South Supermarket, Rustans, Shopwise, and Waltermart.
Like this post? Subscribe to this blog by clicking HERE.
Let's stay connected: