I love face masks. I use them on a regular basis, around 2-3x a week. Which mask I use depends on what I feel my skin needs at the time. I usually put them on before going to bed. Waking up to skin that looks and feels perfect is the best feeling in the world lol.
That said, when Watsons asked me to join the Watsons Mask Revolution, I agreed. They sent me a bag full of assorted Korean face masks. I had to use one mask a day as part of my skincare regimen for 7 days. It was something I was only too happy to try doing. But wait, there's more. I get to pick 3 Instagram followers with the most creative posts to win P5k worth of face masks from Watsons!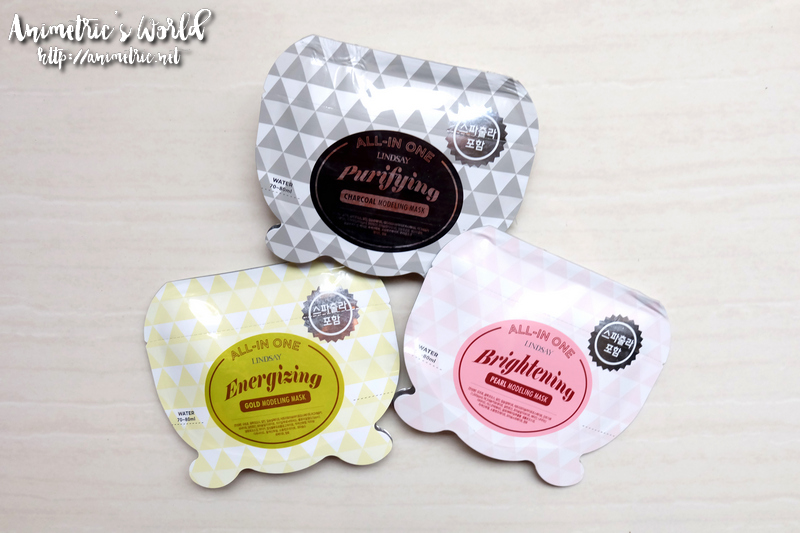 Rummaging through my big bag of masks, a Korean brand called Lindsay caught my eye. There were 3 different Lindsay All In One Face Masks, each with a specific function:
Purifying Charcoal Modeling Mask
Energizing Gold Modeling Mask
Brightening Pearl Modeling Mask
I was intrigued by how different Lindsay All In One Modeling Mask was packaged. The foil pack was bowl shaped and bulky instead of flat. I figured I needed to completely clean my face at the beginning of the challenge so I started with the Lindsay All In One Purifying Charcoal Modeling Mask.
Tearing the top part of the packaging off reveals powder and a scoop / spatula.
You add 7-8 scoops of water to the powder. I recommend 8 scoops because it dries quickly. Then you mix well using the spatula end.
When completely blended, the consistency should be thick and gooey. Spread it all over your face thickly and quickly. During my first try, I didn't know it was going to dry up THAT fast. I used only 7 scoops of water which was the minimum. The mask was all patchy when I finished covering my face. I vowed to do better next day. This mask has charcoal powder which cleanses the skin by absorbing impurities. My face did indeed feel super clean after I removed the mask.
The next one I tried the Lindsay All In One Energizing Gold Modeling Mask. It's infused with gold powder which helps in firming up the skin and leave the skin glowing.
I did much better in mask application the second time around. I used 8 scoops of water and I worked double time to cover my entire face.
The third mask I tried was Lindsay All In One Brightening Pearl Modeling Mask. Pearl protein extract is combined with ascorbic acid and niacinamide to nourish the skin and make it radiant.
You peel of the Lindsay All In One Modeling Masks after 10-20 minutes. I do so after 20 minutes to gain the full benefits. The masks dry to a rubbery finish which is easy to peel off if applied thickly. It's hard to remove and can sting when you peel if the layer is thin.
What I did was alternate the Lindsay All In One Modeling Masks with regular moisturizing sheet masks for an entire week. I do my best to take care of my skin all the time so there wasn't really a dramatic difference. However, I loved how my skin felt after using each mask.
What I like about Lindsay All In One Modeling Masks:
There's a mask to address every kind of skin concern. While I got to try 3 kinds, I know there are 5 variants.
All of the masks feel very cooling and soothing to the skin.
Skin feels really wonderful after you remove them.
They're reasonably priced. Last time I saw them being sold at Lazada for P719 per box of 6 masks, so that's around P120 per mask.
Downside? It can be quite challenging to use compared to the usual sheet mask, which is why I shared a few tips.
Lindsay All In One Masks are available at Watsons.
Okay now onto the part everyone is waiting for… who are the 3 big winners of P5k worth of face masks from Watsons? Congratulations to the following Instagram users:
@melandriaromero
@djamillah
@_ventesaiz
Congratulations ladies! I will get in touch with you regarding your prizes as soon as I get the go-signal from Watsons.
Like this post? Subscribe to this blog by clicking HERE.
Let's stay connected: