I woke up around midnight one weeknight back in October. Our TV was tuned in to O Shopping. I couldn't go back to sleep so I watched. At first they showed an infomercial about some sort of exercise bike. Yawn. We already have a Gold's Gym stationary bike in our bedroom so the ad was lost on me. Then they started showing this entire spiel about the Lifestyle Stone Cookware Set. I was already cooking then and I was in the market for new cookware.
I prefer buying online so instead of calling the number on the screen, I got my cellphone and searched for the Lifestyle Stone Cookware Set at the O Shopping website. The magic word that convinced me to buy it? INDUCTION. My hubby replaced all our gas stoves with induction cookers so this set was perfect. I bought it from the site and I opted for credit card payment.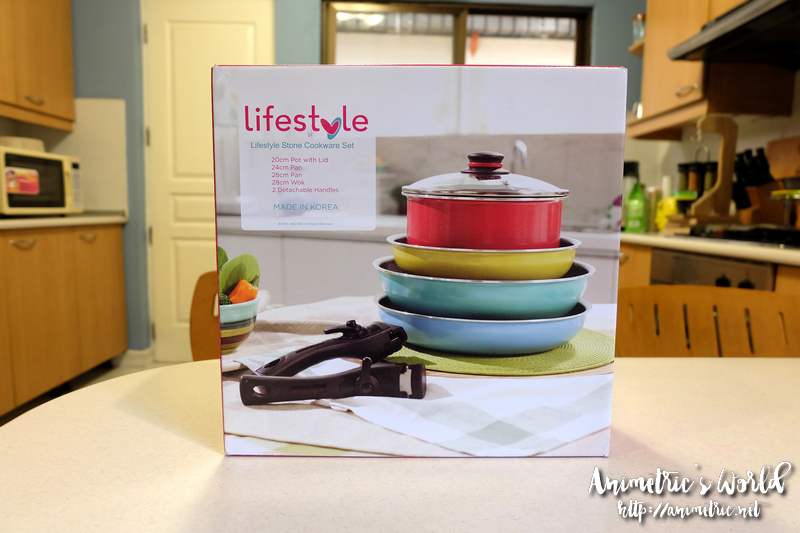 Around 2 or 3 days later, my order was delivered by a dude on a motorcycle. He brought along a portable credit card machine so I was able to swipe and pay. They do Cash On Delivery too.
So yeah, I got everything enumerated online and on TV. Four pans, one cover, and two handles. Amazing how all these fit into the small-ish box.
I was very excited to put them to good use.
Four pans and two handles? That's because the handles are removable. You can convert your pan to a serving dish if the need arises.
They go on and off easily. Just swing the lever to lock and unlock then push the button.
Suddenly I have a new set of induction cookware. The best thing was, everything cost only P3k! Non-stick induction cookware typically cost a lot more than P1k per piece.
I've been cooking with the Lifestyle Stone Cookware wok and frying pan ever since they arrived. Pasta, fried rice, steak, curry, stew… I've cooked them all. I love the non-stick stone surface which heats up and cools down pretty fast.
What I like about the Lifestyle Stone Cookware Set:
One set is sufficient for all my cooking needs so far.
The bottoms of these pans are more resistant to tarnishing compared to my other induction cookware.
They heat up quickly and cool down just as fast.
The non-stick stone surface is easy to wash and clean.
It's better than teflon because the stone surface doesn't peel or chip away.
Take off the handles and you can go straight to serving your dish.
You can use it for gas stoves, electric stoves, and induction cookers.
Downside? I kind of worry about the detachable handles. It's good that they provide an extra. If the handles break somehow (so far there hasn't been any signs of it) it'd be tough cooking with these pans. Other than that I've been having a great time cooking with the Lifestyle Stone Cookware Set. This is definitely one of my best purchases this year.
You can purchase the Lifestyle Stone Cookware Set for P2,995 at http://oshopping.com.ph/ or you can call 877-3500.
Like this post? Subscribe to this blog by clicking HERE.
Let's stay connected: